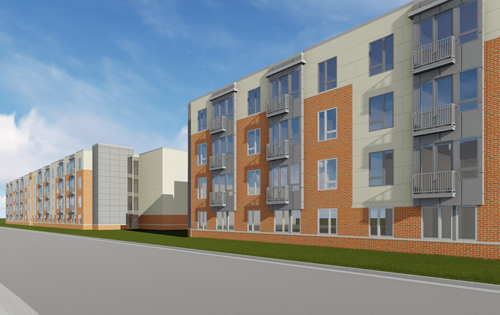 The University of Indianapolis is partnering with a local developer on a second student-housing project to be built on the growing south-side campus.
Strategic Capital Partners will build for UIndy the $20 million, 118-unit development consisting of two four-story buildings. The project received city approvals on Oct. 4.
The Metropolitan Development Commission unanimously approved the team's request to vacate a half-block stretch of Boyd Avenue at the north end of the campus to make way for the project.
Department of Metropolitan Development staff originally had recommended denial of the request but changed its position after the developers agreed to withdraw their bid to also vacate a section of National Avenue, which runs east-west and intersects with Boyd.
Construction on the student-housing project should begin immediately and finish in January 2019, said Will Zink, Strategic Capital's vice president of construction and development.
It's the second residential development that UIndy and Strategic Capital have partnered on.
They built the $25 million Greyhound Village at Shelby Street and National Avenue, which opened in 2016. The four-story apartment building is fully leased and created a new housing option for up to 487 students.
The need for even more student housing comes as the university's enrollment continues to swell. Five years ago, the college welcomed 800 freshmen, UIndy President Robert Manuel said. This fall, the number ballooned to 1,144, bringing total enrollment to 5,800, including 1,200 graduate students.
"Having this housing is a required element of our growth," Manuel said. "The goal for me and the university is to continue this growth and to enable the students who want to be on campus to do so."
The university's housing crunch has become so severe that 150 of this fall's freshmen have been forced to triple-up in some dorm rooms, just so they can stay on campus, he said.
The new, 116-unit housing project will be built to the east of Greyhound Village and will boast 300 beds. The two, four-story buildings will be divided up into 48 "quads" with four bedrooms, 38 "doubles" with two-bedrooms and 32 "singles."
The two buildings should alleviate any concerns that a student-housing crunch will persist, Manuel said.
"The planned size of the university is pretty close to what we want it to be," he said. "We think this will cover us for quite some time."
UIndy and Strategic Capital are building the student-housing project on land the university has acquired on National Avenue. Some of it was purchased at sheriff's sales, while other parcels were bought from homeowners or landlords wanting to sell, Manuel said.
Once the housing project is built, UIndy will have spent nearly $70 million upgrading its campus.     
A partnership between UIndy and Community Hospital produced the $22 million health sciences center at Hanna and State avenues adjacent to the campus. The center opened in August 2015 and provides health and wellness services to the community while giving students clinical experience.
Manuel arrived as UIndy president in July 2012 from Georgetown University in Washington, D.C., where he was associate provost and dean of the School of Continuing Studies.
As part of a university-wide strategic plan, Manuel is aiming to transform the liberal arts college into a south-side anchor by pursuing millions in building projects he hopes will attract private investment to the area.
Early this month, UIndy announced plans to partner with Indianapolis-based developer OakBridge Properties to convert the former Shelby Bowl building at 3808 Shelby St. into a Books & Brews used bookstore and taproom.
Work on the vacant one-story structure, just west of the campus and owned by the university, is expected to begin this month and finish in the spring.
OakBridge Properties is led by Will Zink of Strategic Capital and son of Strategic Capital CEO Gene Zink.
Please enable JavaScript to view this content.