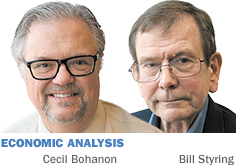 An objection often made to free trade is that it isn't "fair trade" if foreign governments subsidize their domestic producers. Taken at face value, this seems a convincing argument for countermeasures by the U.S. government. However, almost always, the more carefully we examine the details of the alleged foreign-trade shenanigan, the less compelling the countermeasure becomes.
Consider the strange case of Bombardier. Originally a producer of snowmobiles, the Montreal firm got into the airplane-building business in 1986 when it acquired the bankrupt, state-run manufacturer Canadair. Until recently, Bombardier's niche was building commercial jets with fewer than 100 seats.
Bombardier's new CS series, however, is a foray into the larger-jet market dominated by Boeing and Airbus. Its new CS-100 comes with 108 seats, while the CS-300 holds up to 160. U.S.-based Delta Airlines purchased 75 CS-100s for delivery in 2017, and this is where the fireworks began.
Boeing filed a pending request with the U.S. Commerce Department for a 300 percent tariff on any Bombardier plane sold to U.S. airlines. For every dollar an airline pays for a C-Series, they'd pay another $3 to the U.S. government. Boeing says Bombardier gets subsidies from the Canadian government, but Boeing's hands are hardly clean when it comes to government largesse. Boeing is always first in line when the Export-Import Bank passes out cheap, taxpayer-subsidized credit. Not to mention Boeing's contracts with the Department of Defense.
But more important: Boeing does not offer a jet that is comparable to the CS-100s Delta ordered. Its smallest jet, the Boeing 737 Max-7, starts at 138 seats. As Delta Vice President Joe Esposito said: "A 100-seat plane and 150-seat plane are not interchangeable for Delta's purpose."
Of course, with a 300 percent tariff on the 108-seat CS-100, the 138-seat Boeing 737 Max-7 would be a better deal for Delta. But that is like saying a three-bedroom house is the best fit for a family wanting a two-bedroom model if we impose a 300 percent tax on two-bedroom houses.
Boeing says the price Delta paid for Bombardier jets was "too low" at $20 million each. Delta denies it paid that little. However, it is common for airlines to get big discounts on new plane models when they are first adopters.
So yet again, tariffs aren't really about fair trade; they're all about fixing the market for domestic firms at the expense of the rest of us.•
__________
Bohanon is a professor of economics at Ball State University. Styring is an economist and independent researcher. Both also blog at INforefront.com. Send comments to ibjedit@ibj.com.
Please enable JavaScript to view this content.