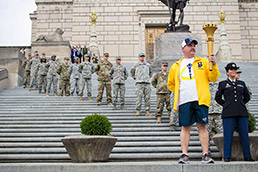 The Indiana Bicentennial Torch Relay traveled 3,200 miles around the state before finishing its journey in Indianapolis. (Photo courtesy of Sadie Lebo/Ball State University )
The Indiana Office of Tourism Development was awarded Best Public Relations Campaign for the Indiana Bicentennial Torch Relay at the U.S. Travel Association's 2017 Mercury Awards ceremony last month in Minneapolis.
The Mercury Awards recognize U.S. Travel Association members for excellence and creative accomplishment in state destination marketing and promotional programs.
One of the judges said about the torch relay: "The idea of uniting the entire state and bringing together citizens of every age, race and background to carry a physical object throughout the state is interesting enough, but the partnerships and execution really elevated this campaign."
"The torch relay was a great opportunity to promote and unify the state by connecting people, communities and regions," tourism department Executive Director Mark Newman said in a statement. "This award is a tremendous honor. The effort, dedication and teamwork that went into more than three years of planning was worth the journey."
Patterned after the Olympic Torch Relay, Indiana's version passed through all 92 counties Sept. 9 to Oct. 15, 2016, covering 3,200 miles over a five-week period, or an average of 90 miles per day. •
Please enable JavaScript to view this content.