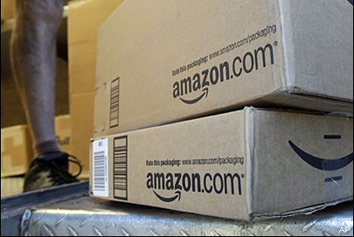 The Indiana Department of Labor has issued a safety order and proposed a fine of $28,000 against Amazon.com Inc. following a fatal accident at a Plainfield fulfillment center.
The incident occurred Sept. 24 at Amazon's South Perry Road facility, which is one of two Amazon fulfillment centers in Plainfield.
Victim Phillip L. Terry, 59, of Indianapolis was doing maintenance work on a forklift when the vehicle's front lift fell on him, said Plainfield Police Department Captain Jill Lees. 
Terry died of multiple crushing injuries and his death was ruled accidental, said Hendricks County Coroner Rick Morphew. 
In a safety order issued Oct. 30, the Department of Labor said that the employee had not used proper safety procedures while working underneath the forklift, and that Amazon had not provided adequate employee training on this topic.
In all, the state cites Amazon for four serious safety violations, each carrying a proposed financial penalty of $7,000. The order also directs Amazon to correct each of these violations by Dec. 1.
When the state issues a safety order against an employer, the company has several options for responding. It can pay the penalty as proposed, or it can request an informal review—which often leads to a reduction in the monetary penalty. Or the company can formally contest the state's findings.
Amazon has not yet contacted the state to indicate its response, Indiana Department of Labor Spokeswoman Molly Deuberry said. Amazon's response deadline is Nov. 21.
Amazon declined to discuss the case with IBJ, saying via e-mail that it does not comment on ongoing investigations.
The company has a total of five fulfillment centers in Indiana, four of which are in central Indiana. It has about 9,000 employees around the state. 
 
Please enable JavaScript to view this content.