David Baker is retiring after a 30-year run as the champion of historic preservation in Indianapolis city government.
Baker, 68, officially notified the Indianapolis Historic Preservation Commission on Nov. 1 that he'll be leaving as administrator—a wide-ranging position that oversees design and development issues in 12 historic districts, five conservation districts and for many individual landmark properties. His last day of work is set for Jan. 31.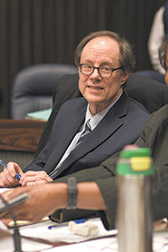 IHPC Administrator David Baker has held that office for more than half of the commission's existence. (IBJ photo/Eric Learned)
Meanwhile, a panel of three IHPC board members—Bill Browne, W. Bruce Stauffer and Susan Williams—and Department of Metropolitan Development Director Emily Mack will oversee the search and conduct interviews.
They hope to have Baker's replacement on the job before he leaves, to provide some overlap and an opportunity for the new arrival to tap into his vast wealth of knowledge.
Baker cited his growing brood of grandchildren and a desire to spend more time with them as one of the reasons for his decision to cap his career.
"It's a bit bittersweet, because I feel so involved," he told IBJ. "I can't drive down the street without knowing a story about every building, and I'll sort of miss that. But a lot of it had to do with family."
IHPC's roots date to 1967, when state lawmakers established the commission to preserve the character and fabric of historically significant areas and structures in the city. But it wasn't until 1976 that IHPC became a division of the city's Department of Metropolitan Development.
Baker arrived at IHPC in 1984 as an architectural reviewer and became administrator in 1987—a role he's enjoyed for 30 of the commission's 50 years of existence.
"David has brought a level of knowledge and expertise that's certainly not going to be the easiest thing to replicate and replace," Browne said. "We're confident we can find an individual who can do the balancing act that's really necessary for this position."
As administrator, Baker has been a powerful but low-profile force in saving some of the city's oldest structures from demolition. Today, the commission's mission has shifted toward assessing how new construction melds with historic neighborhoods, although saving old buildings from demolition remains a top priority.
The job of administrator includes managing the nine-member IHPC board and leading the IHPC's staff, which functions as a division of the DMD.
It's the IHPC staff's job to shepherd project applications through the review process, with Baker at the helm, to give them the best chance of receiving commission approval.
When Baker arrived, IHPC oversaw five historic districts. Today, that number has grown to 12, in addition to five conservation districts and 13 individual properties, including Circle Theater and Old City Hall.
"My education is in architecture and urban planning," Baker said. "This job melds both those interests together. What has been most personally satisfying to me has been the ability to see historic preservation used as a planning tool to cause positive change in neighborhoods."
Baker will be sorely missed, said Mark Dollase, vice president of preservation services for Indiana Landmarks.
"I think David has been a calming and stabilizing force in the growth of the core neighborhoods in our community," Dollase said. "It certainly is something where you could say that without his work ethic and how well he has been able to work with applicants, developers and property owners, I don't think our downtown neighborhoods would look nearly as good as they do."
"David almost IS the IHPC," Dollase continued. "He's been there so long that I think his vision and the way he has guided the commission over the years has made it what it is today."
Baker was born in Detroit, and his family moved to San Antonio, Texas, when he was a toddler.
He earned a bachelor's degree in architecture in 1972 from the University of Texas at Austin and followed up with a master's in urban planning from the University of Rhode Island.
He landed his first job in Augusta, Georgia, as a county planner for three years before moving to Fort Wayne to take a similar position. There, a "tiny piece" of his job involved administering the city's historic preservation district, which at the time amounted to less than a block, Baker recalled.
He enjoyed that part of his work so much that he began sending out resumes and interviewing for city historic preservation positions, ultimately landing in Indianapolis in 1984.
The job specifications are posted on the city's website and have been made available to Indiana Landmarks and other preservation groups.
Please enable JavaScript to view this content.