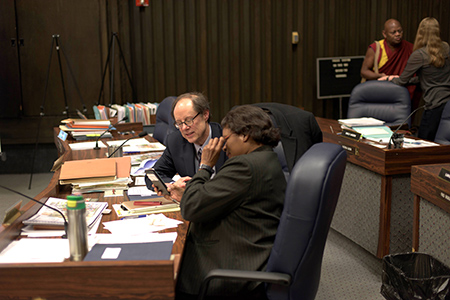 Turn back the clock to 1984, and Indianapolis was buzzing with excitement following the arrival of the Colts from Baltimore—one of the biggest moments in city history.
That same year, another newcomer, David Baker, began making his own mark on the local landscape, albeit to much less fanfare. Baker came to the Circle City as an architectural reviewer for the Indianapolis Historic Preservation Commission and three years later was promoted to administrator.
He continues in that role today. For 30 of the commission's 50 years of existence, he's been a powerful but low-profile force in saving some of the city's oldest structures from demolition.
His tenure has far outlasted Union Station's reuse as a downtown marketplace. He's also witnessed the revitalization of Massachusetts Avenue—once Indianapolis' version of skid row—and now is helping to strike more of a balance between a rush of new development and old buildings.
Yet Baker, 68, maintains a modest tone when discussing his career as a champion of historic preservation.
"This whole effort isn't me," he said from a conference room on the 18th floor of the City-County Building. "It's the community; I'm just the hired help."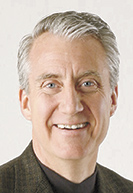 Browne
Those who know him best beg to differ. Bill Browne, a principal at Ratio Architects, has spent 25 years serving IHPC, the past six as president of the nine-member commission. Five members are appointed by the mayor and four by the City-County Council, with no term limits.
"He does yeoman's work, and his staff does the same," Browne said. "We're lucky as a city to have them."
IHPC's roots date to 1967, when state lawmakers established the commission to preserve the character and fabric of historically significant areas and structures in the city.
But it wasn't until 1976 that IHPC became a division of the city's Department of Metropolitan Development. The commission always has operated on a shoestring. Counting Baker, staff runs just five deep—an administrator, two architectural reviewers, a preservation planner and an office manager.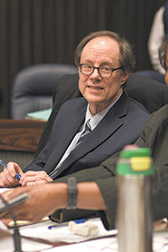 IHPC Administrator David Baker has held that office for more than half of the commission's existence. (IBJ photo/Eric Learned)
Baker, however, has received approval to hire another reviewer to tackle the burgeoning caseload. An improved economy and a growing desire to redevelop projects in trendy historic districts are driving the increase in applications.
It's the staff's job to shepherd applicants through the process, to give them the best chance of receiving commission approval. Staff members receive so many applications these days that it's not uncommon for a monthly IHPC meeting that begins at 5:30 p.m. to last late into the night. The last one, on Feb. 1, clocked in at five hours and 44 minutes.
IHPC oversees 12 historic districts, five conservation districts and 13 individual properties, including Circle Theater and Old City Hall.
Staff reviews more than 600 applications a year, but 60 percent of those are approved by staff without a hearing. They involve simpler requests like paint colors, fencing or roofing.
Downtown's Lockerbie Square boasts the honor of being the city's first historic district, born from an urgency to maintain the neighborhood following failed plans in the 1960s to demolish buildings to make way for "Lockerbie Fair," inspired by Disneyland.
"The plans that we've done for these historic neighborhoods, they don't just go on a shelf," Baker said. "Even the ones that are 30 years old, they're still being used."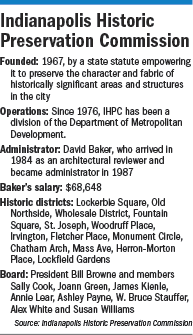 Drawn to preservation
Baker was born in Detroit, and his family moved to San Antonio, Texas, when he was a toddler. His father, an attorney, suffered from various health problems and had been instructed by his physician to move south.
Baker earned a bachelor's in architecture in 1972 from the University of Texas at Austin and followed up with a master's in urban planning from the University of Rhode Island.
His affinity for architecture stems from his childhood, when he would design houses to emulate the residential development in his neighborhood.
Baker landed his first job in Augusta, Georgia, as a county planner for three years before moving onto Fort Wayne to take a similar position. There, a "tiny piece" of his job involved administering the city's historic preservation district, which at the time amounted to less than a block, Baker recalled.
He enjoyed that part of his work so much that he began sending out resumes and interviewing for city historic preservation positions, ultimately landing in Indianapolis in 1984.
Baker's arrival not only coincided with the Colts' but also with another historically significant event—the remaking of Union Station into a festival marketplace.
"I would go there almost every day, crawling over every single inch of that building," Baker said. "I learned so much about construction."
Union Station opened in 1888 as a railroad station and thrived for decades. But passenger traffic began to decline following World War II and slowed to a trickle in the 1960s.
The station was placed on the National Register of Historic Places in 1982. Two years later, the facility began its conversion to a marketplace, opening in 1986. Its 11-year run ended in 1997, following the arrival of Circle Centre mall.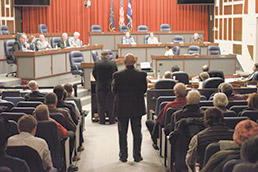 Because of a heavy caseload, the Indianapolis Historic Preservation Commission's monthly meetings can last for hours. This one, on Feb. 1, was almost six hours long. (IBJ photo/Eric Learned)
A target of critics
Today, the commission's charge has shifted toward assessing how new construction melds with historic neighborhoods, though saving old buildings from demolition remains a top priority.
Both issues can stir up strong feelings among IHPC board members, developers and neighborhood residents.
Those tensions have been on display at recent meetings as Edward Battista, owner of the Bluebeard restaurant at 653 Virginia Ave., seeks to redevelop a one-story, dilapidated structure at 638 Virginia Ave., south of the Repeal restaurant.
Battista initially sought to demolish the building, arguing it was unsalvageable—much to the consternation of commission members. Even so, Battista, who has restored buildings on Massachusetts Avenue, thinks the commission more often than not gets it right.
"I think that there's a balance between saving things just because they're old and saving things that have historic significance," he said. "In general, they do a pretty good job of that, although sometimes I might not understand it."
Other times, IHPC finds itself in the crosshairs of supporters of downtown development who accuse the commission of overstepping its bounds, particularly when members think a project is too dense for a historic neighborhood.
That's occurring with a project that North Carolina developer and Indianapolis native Paul Vezolles is proposing in the Chatham Arch neighborhood. He originally wanted to build a five-story condominium building along East Street on the former Day Nursery site complemented by single-family homes and town homes along Park Avenue.
Vezolles first presented his plans to IHPC in November and hopes to win approval next month, by making concessions that include lowering a portion of the 56-unit condo building to four stories and setting it back 12 feet from the street.
"We're always going to have some pushback from the neighborhood or the developer; that's the nature of the commission," said Browne, IHPC's president. "We're not anti-development; we're not."
No plans to retire
With the election of Mayor Joe Hogsett in 2015, Baker is now working for his fifth mayor. Conceivably, he could be replaced by a new administration, though it seems he's become a city institution. And he has no plans to retire anytime soon.
His appreciation for historic structures, however, doesn't translate to the home he shares with his wife, Beth. They reside in a 1960s-era house in Nora. But that's on purpose. Baker said he's avoided living in a historic district for fear he might be perceived as showing it favoritism.
His preferred era of architecture is mid-century modern, which runs from roughly 1933 to 1965 and includes his workplace—the 55-year-old City-County Building. Indiana Landmarks is mounting an effort to get the building listed on the National Register, Baker said.
"It's actually a pretty interesting example of mid-century modern architecture that's relatively intact," he said. "But when I came here, preservationists loathed the building, because it replaced the [Marion County] courthouse."
Asked to name a few buildings he wished were still standing, Baker listed the English Hotel and Opera House and the Pembroke Arcade. The English Hotel, on Monument Circle where Anthem Inc.'s headquarters now stands, was demolished in 1949. The Pembroke Arcade, on East Washington Street near Pennsylvania Street, was perhaps the city's first shopping center. It was completed in 1895 and razed in 1943.
Both met their demise long before the formation of IHPC—established to ensure history doesn't repeat itself.
"I have seen the commission and the community evolve over time in its ability to accept good, contemporary architecture," Baker said. "Maybe I've had a little bit to do with that in some way, I don't know."•
Please enable JavaScript to view this content.