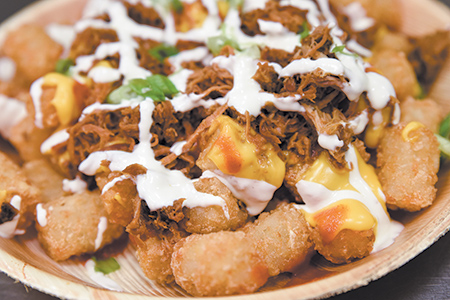 Football has its tailgate buffets. Baseball has its hot dogs and the peanuts and Cracker Jack of the famed song. But there's no identifying food fare at a basketball game, which perhaps makes it the major spectator sport most amenable to food experimentation.
Consider Bankers Life Fieldhouse, where a range of new dining options have been added to the staple selection. I attended a recent Pacers game there, but spent most of my time seeking out those offerings around the arena.
Here's what I found.
Mess Hall Tots ($13) (pictured above)
I might have some new best friends after offering half of my massive takeout container of buffalo-sauced, smoked-pork-piled potatoes to the Pacers loyalists behind me. While most of the tots retained their crispness and the flavors of both the sauce and pig shared the space well without one dominating the other, it's hard for me to imagine one or even two people devouring this and still expecting to get up at the end of the game. Alas, Mess Hall Tots are available only in the Lightbound Courtside Club, the private dining spot for those in the lower rows. (Yes, I had special permission to go. Don't be a hater.)
Banana Cream Pie Parfait ($7)
Desserts can be tricky at games—not just keeping them balanced and eating them before they reach their melting points, but also dealing with the hungry stares of those around you. Expect such jealous gazes if you indulge in this one, another from the Lightbound Courtside Club. Crushed Nutter Butter cookies and vanilla whipped cream make this a treat that would be a contender in any venue.
Subito Soup ($8.75)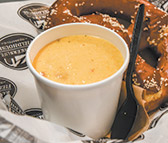 The folks in the Taste of Indy booth in section 215 (there's another at 14) didn't have much info on what they were serving: "I don't know, but it's supposed to be good" was the response to my query. A sign was more helpful, indicating that the soup of the day was butternut squash with prosciutto. I don't know—and perhaps the servers won't know, either—what will be offered on your game day, but whatever it is, be warned: Don't pay too close attention to the game if you have one of these potentially damaging containers of molten goodness on your lap. Safety first, folks.
Taco Pack ($9)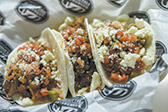 Street tacos seem to be everywhere these days. And at the Taco-Nacho Carts in sections 7, 213, 224 and 232, you get a trio with your choice of barbacoa or al pastor. I mixed and matched, watching with concern as the server wrestled with the question of whether chips were included (turns out they weren't and she dumped them out) and how much queso fresca she should add (her answer: lots and lots). Most of the cheese sauce ended up on the tray, which was when I realized she had failed to add the promised pico de gallo. Still, with a bit of cilantro, the tacos were a pleasant change from meatier fare.
Hand-Carved Beef Brisket ($11)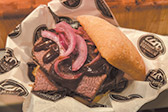 When a stand calls itself The Carvery, there'd better be someone wielding a knife into a big hunk of meat. And that's what's going on in sections 6 and 231. Three thick slabs of chewy brisket found their way between top and bottom bun, but handling this big guy is a challenge, so make sure to grab a plastic knife before you head back to your seat. You also might want to do some trimming by the trash can. The mountain of meat on my tray had a higher percentage of fat than I would have liked. I wouldn't have wanted to discover it on my first bite.
And more
Want to do some culinary trailblazing beyond those above? Other newcomers that I didn't have room for include a Pretzel Wrapped Hot Dog at Ben's Pretzel's (although, since a Ben's is just about perfect on its own, why guild it?); Smoked Pork Belly Sliders at Sandwich Works; Loaded Mac-N-Cheese at, where else, the Mac N Cheesery; and a Portabella Mushroom Sandwich in the Varsity Club. There's also a Burger of the Month at Mel & Herb's Burger Co. in section 103, but the October offering—a Beer Battered Burger—was unavailable on my chosen game day.•
Please enable JavaScript to view this content.