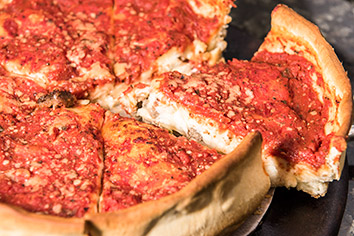 Folks on the south side of the Indianapolis area soon could have a shorter trip to get their deep-dish Giordano's pizza fix.
The Chicago-based chain has applied for a beer, wine and liquor permit from the state for a new restaurant that would be located in Greenwood at the intersection of U.S. 31 South and East Stop 13 Road.
The application is pending, according to the Indiana Alcohol and Tobacco Commission.
The location would be the chain's third in the Indianapolis area. In January 2015, it entered the market with a 4,000-square-foot restaurant at the Rivers Edge Shopping Center on East 82nd Street. At the time, it was among just a handful of Giordano's locations outside the Chicagoland area. Wait times at the River's Edge location initially were as high as three hours.
It proved so popular that the chain sought out a downtown outpost. In May 2016, it opened on the ground floor of the Illinois Building at Illinois and Market streets.
The move to add a south-side location mirrors the plans of fellow Chicagoland staple Portillo's, which has filed to open a second Indianapolis-area restaurant at 8159 U.S. 31 South, on the site of a Don Pablo's Mexican Kitchen that closed a year ago.
Portillo's welcomed thousands of patrons Sept. 28 to to its first local restaurant—a 9,000-square-foot eatery at 9201 E. 116th St. in Fishers.
Giordano's is in expansion mode. In 2015, CEO Yorgo Koutsogiorgas told IBJ that the chain was looking for multiple sites in the Indianapolis area and that "we feel at home here."
Giordano's officials didn't immediately respond to a request for information from IBJ late Friday morning.
According to the industry publication Pizza Today, Giordano's is the 30th largest pizza chain in America. It has 63 locations, according to the list, and $121.7 million in annual gross sales.
The first Giordano's opened in 1974 on Chicago's south side. It was founded by brothers and Italian immigrants Efren and Joseph Boglio. The stuffed pizza is made with a recipe from an Italian woman named Mama Giordano from their hometown of Torino.
Giordano's has been recognized as "Chicago's Best Pizza" by the Chicago Tribune, New York Times, CBS and NBC, according to its website. Known for its signature stuffed pies, Giordano's also serves thin-crust pizzas, appetizers, salads, sandwiches and Italian dishes.  
Please enable JavaScript to view this content.