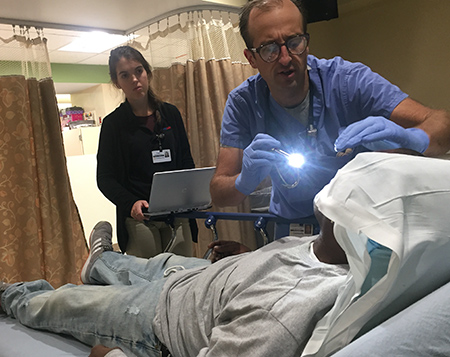 Dr. Ji Hong was trying her best to do two things at once: Quiz a patient about her cold symptoms, and type the information as quickly as possible into a computer.
"Runny nose?"
"Not anymore," said the patient, a 74-year-old woman, between coughs. "I did have, the first of the week."
"Fevers or chills?"
"No."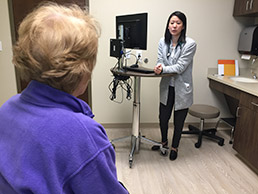 Dr. Ji Hong alternately quizzes a patient about her cough symptoms and records data into an electronic medical record at a Greenwood family clinic. (IBJ photo/John Russell)
"Have you been taking anything for the congestion?"
"Mucinex."
Hong, a third-year resident at Community Health Network's family clinic in Greenwood, listened and typed as the patient described her symptoms, medical history and medications.
It's a tough balancing act, one doctors across the United States still are trying to master as electronic health records explode in use, six years after the U.S. Department of Health and Human Services first required health care providers to begin collecting information electronically in return for financial incentives.
The goal was to build a national collection of patient information in a digital format that could be shared across different health care settings—from tiny clinics to huge medical centers.
Some said the effort could transform health care, giving doctors and patients quick access to their medical information, and making better medical decisions.
But gathering all that information happens one click at a time, with a doctor or assistant hovering over a keyboard in thousands of exam rooms across the country. And that has fueled a debate over whether all that effort is enhancing or compromising patient care.
Some doctors say they are torn between giving patients 100 percent of their attention and trying to simultaneously listen to patients and enter data on a computer—far more data than they collected back in the days of writing a few relevant notes by hand in a patient's paper files.
"I will try to talk while typing," said Hong, after the patient left her Greenwood exam room. "But sometimes I will just put it on hold if I have a patient who needs me to sit down and talk with them, instead of staring at a computer screen. I'll just keep it all in my head and eventually I will write my notes."
But all that typing—either during or after a patient visit—can add up quickly. For every hour physicians provide direct face time with patients, they spend nearly two additional hours documenting the encounters, according to a study published last year in the Annals of Internal Medicine.
"Outside office hours, physicians spend another one to two hours of personal time each night doing additional computer and other clerical work," the study concluded.
Clicking away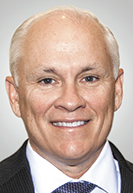 McGoff
Talk to a physician for more than 30 seconds about electronic health records, and you're sure to hear a story about long evenings spent catching up on records, or just the tough demands of listening and typing simultaneously.
"When you see a physician, he's got his head buried in his computer and he's trying to document at the same time you're giving him your history," said Dr. John McGoff, an emergency physician and president of the Indiana State Medical Association.
Primary care physicians, in particular, spend more than half their workday at a computer screen performing data entry, the American Medical Association said in September. That drains the time they can spend with patients, leading to burnout and rising dissatisfaction, the AMA said.
In response, roughly one in five physicians intends to reduce clinical hours next year—due to dissatisfaction with electronic health records and the overall "burden and bureaucracy of modern medicine," the association said.
Still, many doctors acknowledge that electronic records have benefits.
Dr. Jeremy Gagan, an emergency physician at Community Hospital East, said he no longer needs to decipher illegible handwriting on medical records, as he did as a young doctor. With just a few mouse clicks, he can learn of a patient's history, allergies, medications and other useful information before even stepping into the exam room.
He demonstrated the computer system, called Epic, moving quickly between screens and tabs, gathering reams of information about a patient in less than a minute, before jumping up and heading down the hallway to an exam room.
"In the old paper-chart days, we would not comb through this stuff," Gagan said. "It would just be too tedious."
But Gagan, like many physicians at large hospitals, is spared much of the clerical work. As he walked into an exam room, he was trailed by a medical scribe, who stayed in the background and quickly entered all the new information on a laptop during a patient exam.
The scribe, Paige Swan, a pre-medical student at Marian University, clicked away, filling in dozens of fields on the screen with the patient's newest symptoms, along with the doctor's orders.
Some doctors, however, say they find the computer programs difficult and frustrating, especially during a long, busy day. Just a few feet away from Gagan, at the next computer station, another emergency physician, Dr. Jeff Brunett, said he has entered orders for the wrong patient into the computer, only to have to go back and correct them. "I've done it many times," said Brunett, who is 60. "I think it's an older person's problem."
High hopes
It's a far cry from a decade ago, when talk about an electronic health system conjured up visions of tapping effortlessly into a wealth of medical information with a click of a mouse. In addition to patient histories, the databases would contain laboratory results, medications, X-ray images, immunizations, vital signs and billing records.
The aim was to help reduce medical errors, cut out unnecessary duplication of expensive tests, increase transparency and accountability, engage patients in their care, and improve public health.
Some health systems have been using electronic records for decades. But the movement got a huge push when the Affordable Care Act began offering doctors financial incentives and doling out penalties.
To receive federal incentive money, doctors would have to attest that—during a 90-day reporting period—they used a certified record system and met the criteria for "meaningful use."
Starting in 2011, the Department of Health and Human Services began rolling out requirements in stages, from the basic (recording medications and allergies) to the progressively harder, such as collecting information for use in research.
Before long, however, doctors and medical associations began objecting that the requirements were too tedious, and the clerical demands too time-consuming.
The AMA said that, from 2011 to 2013, 58,000 physicians participated in the program for three concurrent years. But over the next two years, the number of physicians attesting they met the "meaningful use" requirements dropped by 22,000. This year, more than 250,000 physicians will receive financial penalties—often worth tens of thousands of dollars—for not meeting the program's requirements, the AMA said.
In response to the clamor, the federal government recently gave physicians and hospitals an additional cushion—until 2019—to meet the latest stage of requirements.
All in
Still, some hospitals are continuing to invest heavily.
Indiana University Health, the state's largest health care system, said it has spent tens of millions of dollars over the past five years building a single electronic system linking all 15 of its hospitals and 90 percent of its medical practices. The last hospital to be integrated into IU Health's system was Frankfort Hospital earlier this year.
Before the integration began, IU Health hospitals and medical practices used about a dozen systems from at least six vendors. The newly integrated system operates on a platform built by Missouri-based health care technology company Cerner Corp.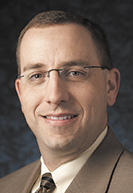 Schnecker
Franciscan Health, with 12 hospitals in Indiana, also has spent millions of dollars building and updating its electronic medical-records system. Some doctors jumped into the system eagerly, and others needed more coaxing, said Dr. Joseph Schnecker, a Franciscan family physician and administrator.
"As in any industry, there's a range in support from those who were early adopters to those who came along kicking and screaming," Schnecker said.
Nationwide, health systems and post-acute-care providers are spending nearly $39 billion a year to build, upgrade and use electronic record systems, the American Hospital Association said last month.
Meanwhile, the goal of having all the systems talk to one another—a concept known as interoperability—is still a distant dream. Too many of the systems still can't communicate.
"There are still too many burdens on physicians, and we are a long way from interoperability," Kate Goodrich, chief medical officer and director of the Center for Clinical Standards and Quality at the Centers for Medicare and Medicaid Services, testified at a Senate hearing last month.
One of the national pioneers in electronic medical records was the Regenstrief Institute, a medical-research organization based in Indianapolis. Regenstrief helped launch one of the nation's first electronic medical record systems at the former Wishard Memorial Hospital (now Eskenazi Health) in the 1970s.
Over the decades, Regenstrief has preached how IT can cut out both costs and errors in health care.
But even as the nation began to follow its lead, some Regenstrief officials could see the shortcomings.
In 2014, Dr. Clem McDonald, who spearheaded Regenstrief's efforts, told journalists the movement was falling short, and getting a vote of no-confidence from physicians, hospitals, insurers and IT experts. He called the results disappointing.
"It's sort of a tragedy, because everybody's well-intentioned," he said, adding he remained optimistic that the technology problems could be worked out. He later left Regenstrief and is now director of the Lister Hill National Center for Biomedical Communications at the National Institutes of Health.
Part of the problem, current Regenstrief officials say, is that the federal government's regulations are too extensive, requiring the capture of unimportant information.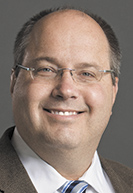 Grannis
A decade ago, a physician could walk into a hospital room, examine a patient, and write up his notes in one-third of a page, said Dr. Shaun Grannis, director of Regenstrief's Center for Biomedical Informatics.
And that note would be useful for everyone who needed to understand the care of the patient afterward, he said.
"Today, after seeing a patient with a sore throat, you have to fill out three to seven pages of a print-formatted template that produces unreadable data that people don't want to scroll through," Grannis said. "It's just highly inefficient."
The good news, he said, is that the government and vendors have heard the protests loud and clear, and are trying to simplify the system.
He predicts that, within a few years, vendors will begin using artificial intelligence, natural language processing, voice recognition software and other tools to let doctors put down their computer keyboard and begin giving their full attention to patients again.
"I think we're beginning to see the pendulum swing back the other way," Grannis said, "to make electronic health records less of a clerical burden and allow us to become more efficient again."•
Please enable JavaScript to view this content.