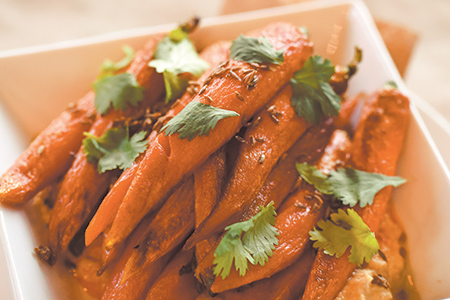 At Massachusetts Avenue and East Street, the transformation of Neal Brown's Pizzology into another Neal Brown creation, Stella (611 East St., 317-685-2550), earlier this year included a number of eyebrow-raising moves, not the least of which was a low-key name that gave no indication of what diners had in store.
There was also the shift of the restaurant's entrance from Mass Ave around the corner to East Street. Not that a few extra feet of walking would hurt anyone, but it doesn't lend itself to spontaneous dining decisions. Compound that with minimal signage out front (or, what used to be out front) and it wasn't clear whether Stella wanted to embrace or turn her back on the popular avenue.
Since opening, there seems to be more of an effort—at least on the windows—to define what's inside. And that's a good thing. It would be a shame if potential diners bypassed this quiet Mediterranean-inspired restaurant in favor of flashier but less accomplished options elsewhere.
We arrived a bit early on a weeknight but, here, there's a bonus for that: Pop in between 4 and 6 and you get a complimentary apericena—a taste of something cooked up in the exposed kitchen to get the tastebuds flowing while also helping create a welcoming feeling. It worked, thanks to a taste of short rib flavored with harissa, a chili pepper paste that is the sole reason we chose a small plate that also featured it.
With a range of menu categories—Crudo, Bread Culture, Cured Things and Terrines, Small Plates, and Large Plates—I advise consulting with the cool-but-professional waitstaff to find the right balance for your table. For three of us, we went with a pair from the crudo line, two small plates and two large, with room for a shared dessert.
Substantial Shrimp ($6 for 2) and Flapjack Point Oysters ($3 each) were presented simply but deliciously with lemon, olive oil and sea salt, each tempting us to add more to our order.
We stuck with seafood for our large plates, too. Psari Plaki is a Greek-styled baked fish and the Roasted Loup de Mer ($24) did Greece proud. Presented with tail and head included—our waiter advised taking the time to dig out the cheek meat—it proved moist and flaky throughout and was lightly dressed with yellow onion, leeks, garlic, tomato, oregano and parsley. Some of the mollusks in the hearty Mussels Marinier ($21) mound needed to be moved aside so the accompanying frites could be dipped in the subtle sauce of crushed tomato, Cynar (an Italian liqueur), chicken stock, shallot, garlic, gremolata and butter. But all were eventually slurped out of their shells.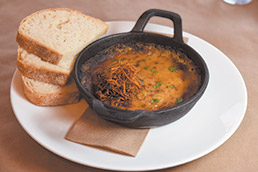 Stella's Whipped Acorn Squash, with maple syrup and sage, shouldn't be considered just a side dish. You can make a meal from the small-plate lineup. (IBJ photo/Eric Learned)
It was the small plates that left the strongest impression, though. The wood-fired ovens from Pizzology were put to good use on the Roasted Heirloom Carrot ($8), served with hummus, candied cumin, cilantro and the aforementioned harissa. The dish could have turned me into a vegetarian right then and there. Whipped Acorn Squash ($9) with maple syrup, breadcrumb and sage sealed the deal. Next time, I'd be tempted just to order the entire small plate lineup.
One of the best meals I've had this year ended with three spoons in a Salted Butterscotch Sundae ($6). By keeping it from being overly sweet, Stella effectively differentiated sundae from—and improved on—similar offerings elsewhere.
Still want Pizzology? You can find another on Hazel Dell Parkway in Carmel. Me? I'll stick with Stella.•
—Lou Harry
Please enable JavaScript to view this content.