E-commerce has sparked a growing phenomenon known as "unboxing"—the act of opening a shipment received from an online store.
Sounds a little mundane. But search YouTube and you'll find millions of videos showing consumers opening packages and revealing what's carefully layered inside the tissue paper, peanuts or other packing materials.
To Curt Stephens and Ward Hubbard, those videos represent opportunity.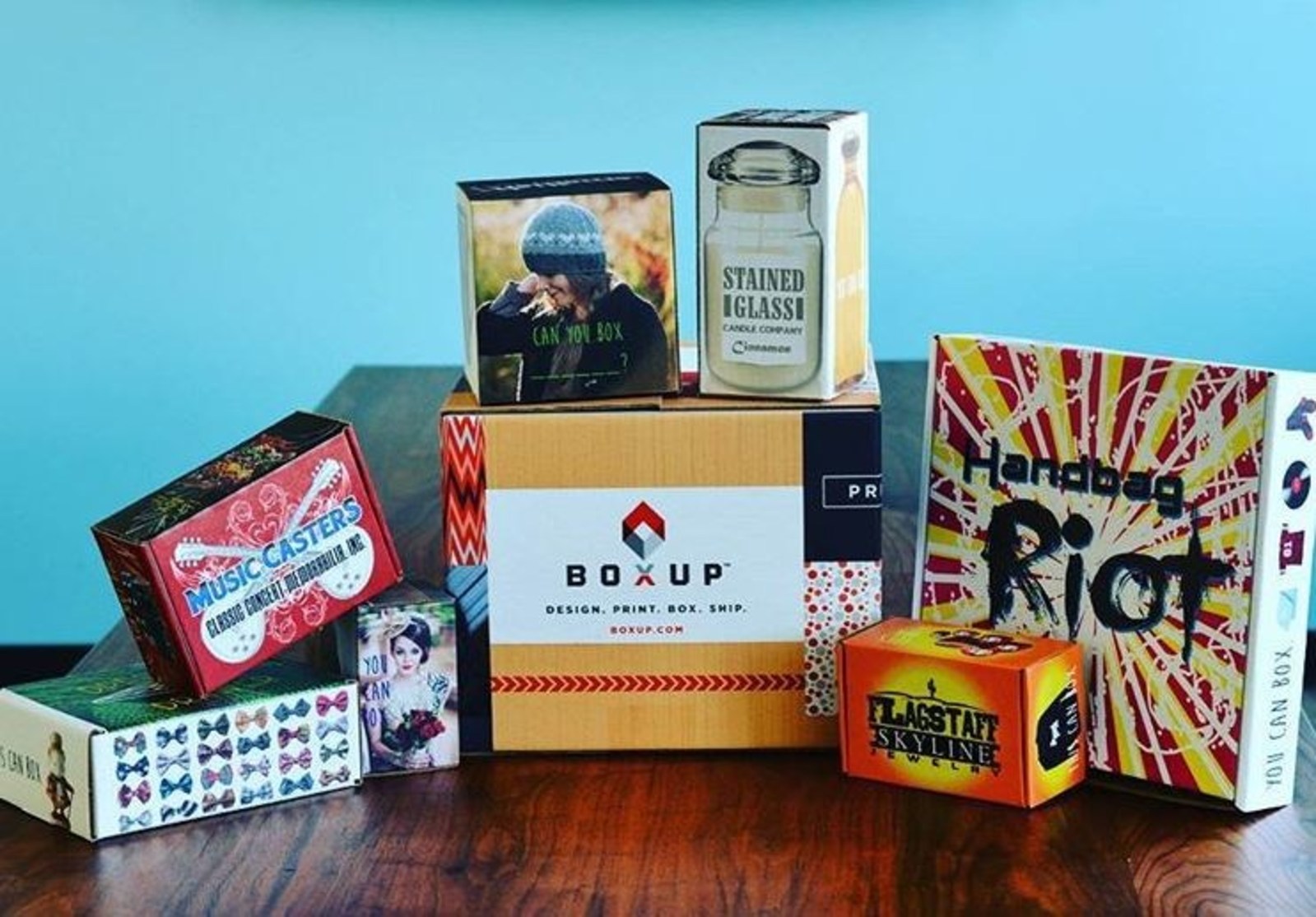 That's because Stephens and Hubbard are experts in corrugated cardboard boxes. They've been making boxes—and managing people who make boxes—for years, most recently as owners of Wabash Valley Packaging Corp. in Terre Haute.
They recognized immediately that the new obsession with "unboxing" is about far more than the products inside. It's also about the box itself—the way it looks, the way it's packed, the way it opens to reveal its contents.
"People in the e-commerce world know that's their moment," Stephens said. "That's when they establish a relationship that they hope will last a good long while."
So Stephens and Hubbard decided to get into the act by launching BoxUp Inc., a different kind of box company that focuses on direct-to-consumer packaging rather than traditional boxes used to deliver products to big-box stores.
BoxUp lets consumers customize cardboard boxes with their own logos, photos and designs and then order small (or large) quantities with a few clicks of the mouse. A proprietary digital-printing process lets customers use virtually any ink color and produces high-quality images and text without big upfront costs.
The BoxUp website launched in August 2016, after 10 months of development and a $400,000 seed round. It was introduced at the first-ever Etsy Up conference, a two-day gathering in New York for thousands of entrepreneurs who use the Etsy online marketplace to sell their goods.
Stephens and Hubbard talked with 400 people that day—and came away with 61 customers. "We were doing backflips," Stephens said. "We knew we were onto something."
Today, the company has more than 1,000 customers, including online retailers, universities, and even brides who want to customize the gifts they give to members of their wedding parties.
The biggest driver of business, though, are subscription-based clubs that ship products to customers on a schedule. The best-known subscription clubs are Birchbox, which delivers beauty products, and Stitch Fix, which delivers clothes.
Neither are BoxUp customers. But the company does provide boxes for many smaller subscription firms—including DaprClub, a new Indianapolis-based company that focuses on men's style, and Everyday Sanctuary, a quarterly subscription recently launched by local singer Sarah Scharbrough McLaughlin.
For subscription firms—which have grown into a $5 billion industry, according to the newly formed Subscription Trade Association—packaging is key.
"It has to be memorable and enhance the unboxing experience," Stephens said.
The global packaging business is huge—and expected to grow to nearly $4.3 billion by 2020, according to business research firm Technavio. "Effective packaging is becoming one of the key business requirements in the e-commerce marketplace, thus fueling the growth of the market," said Bharath Kanniappan, one of Technavio's lead analysts for packaging.
Stephens expects big growth for BoxUp as well. The company is finishing a Series A fundraising round that will top $1 million. That "will certainly poise us for explosive growth," Stephens said.
The company has nine full-time employees (not including Stephens or Hubbard, who are not collecting salaries) who focus on the manufacture of boxes. Most of the firm's administrative work—including marketing and web development—is done by outside contractors.
Stephens expects BoxUp to have 50 employees in a year and as many as 100 the year after that.
 "We've been in the proof-of-concept phase," he said. "But we're building out the internal team as we scale up and as we get enough order activity—which we certainly have at this point to support new employees."
Please enable JavaScript to view this content.