Chief Operating Officer, Chief Financial Officer
Second Helpings
Rescuing 2.4 million pounds of food and putting out a million meals a year to 85 not-for-profits while offering 13 seven-week job-training classes and graduating up to 80 adults requires not just volunteers and philanthropic generosity. It also requires someone to maximize the impact of every dollar brought in. At Second Helpings, Eline has had to carefully weigh every expenditure against the mission of the not-for-profit. 
Education: With a father who worked in sales for GM, it was natural for Eline to head to the General Motors Institute (now Kettering University), where he earned a bachelor's in industrial administration and a direct pipeline into employment with the automotive giant.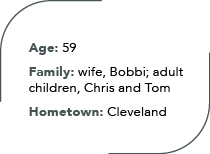 Career path: His first job at GM involved working with Eastern European countries with closed currencies: "We would buy raw materials to generate currency so that we could sell vehicles in certain countries." By the time he left, he was a financial analyst with an MBA from the Tuck School of Business at Dartmouth. He left Detroit in 1987 to start a system-integration business in Indianapolis with a college friend. The company, which provided engineering services for plant-floor automation, grew to a staff of 30 before merging with another integrator.
Eline eventually left to become CFO of Commercial Parts and Service, which was then purchased by GCS Services. He remained with the company, managing nine branch operations across four states. He then joined Wabash National in Lafayette, where he managed company-owned dealerships in the United States and Canada.
Simultaneously, he did consulting, worked with a software startup, and volunteered for Second Helpings. "I was pretty busy with what I was doing, but asked what I could do and they said the accounting system needed some attention." Second Helpings soon offered him a full-time job.
Major achievements during his tenure: A $1 million redesign and expansion of Second Helpings' Hunger Relief Kitchen led to double the number of meals produced. Meanwhile, a redesign of the Culinary Job Training Kitchen allowed for multiple classes simultaneously. The organization also attracted its largest grant in company history—close to $6.9 million—via the Lilly Endowment. "The initial call was a total surprise," he said. "But the process took six to nine months after that." 
Recent business challenge: "We needed to determine if our current facility could support our operations for the next five to 10 years. We applied for a grant from the United Way of Central Indiana to help cover the cost of a facility assessment and worked with an architect, analyzing several growth scenarios and their impact on our facility. We developed strategies to maximize our current space while minimizing operating and capital expense and have begun implementing these strategies to support growth in our programs."
Unique challenges in hunger relief: "We don't have a lot of recurring revenue," he said. "Every year, we have to go back and raise the money we need to run. As we get bigger, it's more and more of a challenge."•
Check out more CFO honorees.
Please enable JavaScript to view this content.