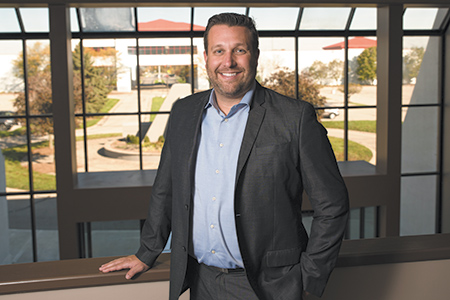 Executive Vice President of Finance
OurHealth
Providing on-site and near-site primary care clinics for employers, OurHealth has grown to 275 employees and annual revenue of more than $35 million since its 2009 founding. Ritzler, who was employee number five, has also grown with the company. "My job today is nothing like what it was six years ago—or last year, for that matter. I have to evolve as the business grows and the stakes get higher."
Education: During college summers, Ritzler would return to Elkhart for factory work. "Working long hours on that assembly line was the best motivation to ensure that I put in the work necessary to be successful in school." At Butler University, a long-tenured professor "essentially scared me into accounting." Ritzler earned his bachelor's in accounting and an MBA there.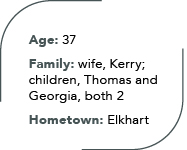 Career path: Internships with the Indianapolis Colts and KPMG helped build a resume that led first to a full-time job with KPMG, followed by a stint with BrightPoint. Wanting to be more involved as a leader, he moved to his alma mater's Butler Business Consulting Group. While Ritzler was at Butler earning his MBA, Jeff Wells, co-founder and president of OurHealth, reached out and requested a meeting. "I was excited to try to sell consulting services to him. It didn't quite go that way."
Major company achievements during his tenure: Negotiating an incentive package with the Indiana Economic Development Corp. leading to
$4.75 million in conditional tax credits and $200,000 in training grants. Opening the Indianapolis MyClinic network, the nation's first near-site network of employer-sponsored clinics. Closing a private funding round of
$37 million to finance a push into new markets and general growth. 
Recent business challenge: "The capital raise I closed in May 2017 is the biggest challenge I have addressed professionally. The long version of that story includes lots of late nights, roadblocks in varying degrees of intensity, and crucial conversations with key stakeholders. It was all worth it. In the end, we raised 100 percent of the capital we sought in a structure that is even more favorable to the investors than we could have expected."
Unique challenges in health care: "Convincing employers to take a risk by purchasing OurHealth's non-traditional solution to address their age-old problem—the growing cost of insuring employees. The challenge is conquered, in part, through tireless demonstration of our value and 100 percent focus on improving the well-being of our patients."
Givebacks: Ritzler has served on the board of the Butler Business Consulting Group since 2013. "How fortunate as a one-time project manager to be able to stay involved with an organization that has done so much for my career," he said. He is also a former board member and treasurer for Outside the Box, which empowers people with disabilities through career guidance, and served on the Indiana CPA Society's Leadership Cabinet.
Downtime: "Pre-kids: travel, read, concerts, sporting events. Current list: watching YouTube videos of construction trucks with my son; playing Play-Doh with my daughter; and scouring Indianapolis for the best playgrounds."•
Check out more CFO honorees.
Please enable JavaScript to view this content.