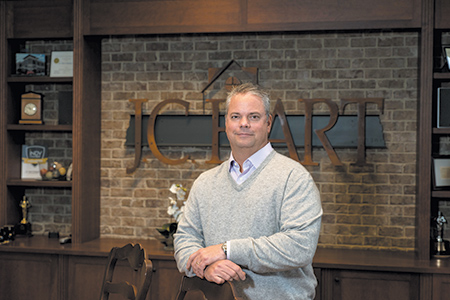 Senior Vice President, Chief Financial Officer
J.C. Hart Co. Inc.
Joining the family-owned, Carmel-based real estate developer, builder and manager in 2001, Kurtz has led an expansion and funding effort over the past seven years that has generated $285 million in construction financing and $273 million in permanent loans. He helped set the company's "Big Hairy Audacious Goal" of owning or managing 12,000 apartment units by 2025.
Education: In high school, Kurtz's goal was to be a baseball player. His backup was CFO. "My dad invested in the stock market, and I'd go through The Wall Street Journal with him, intrigued," he said. After being cut from Marian College's baseball team, he got serious about his education and earned a bachelor's in accounting, later picking up his MBA from Butler University. "My initial advice," he said, "is to get some work experience before you pursue your graduate degree. The benefit of bringing real-world experience into the classroom is immeasurable."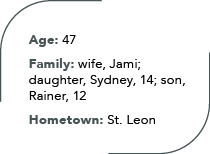 Career path: An internship at Edwards Electrical & Mechanical led right into a job upon graduation. He moved to Coopers & Lybrand, leaving there after a series of promotions to work for a former client, Fairfield Manufacturing in Lafayette. "My goal was to become a CFO, and that wasn't going to be realized unless I left public accounting." In 2001, he accepted the CFO spot at J.C. Hart.
Major company achievements during his tenure: Kurtz helped the organization grow from more than 1,800 units owned or managed to more than 5,000 units. 
Recent business challenge: Kurtz recently structured a partnership arrangement that proved difficult because it deviated from the norm. His methodical steps involved recognizing each partner's contributions and developing an initial pro forma and investment summary that was presented to the group for preliminary discussion with metrics clearly defined. After seeking partner feedback, Kurtz incorporated the concerns from both parties, attempted to recognize each partner's unique needs and wants regarding both revenue-generation and ownership structure. "By concentrating on achieving a win-win scenario, we were able to address the overall concerns from each group while maintaining the integrity of the deal," he said.  
Unique challenges in real estate development: "Every site, development, partnership and financing presents its own unique challenges. There are always obstacles to overcome with different sets of lending parameters and unique partnership objectives."
About this Big Hairy Audacious Goal: "With most strategic plans, in six months you forget about what you wanted to do. We wanted to identify a big goal that would be remembered." In this case, it was to either own or manage 12,000 units by 2025. "It's given us more of a strategic vision and is always front and center."
Givebacks: Kurtz has volunteered as a coach and assistant with travel baseball and youth soccer teams. 
Downtime: golfing, fishing, reading and attending his kids' sporting activities•
Check out more CFO honorees.
Please enable JavaScript to view this content.