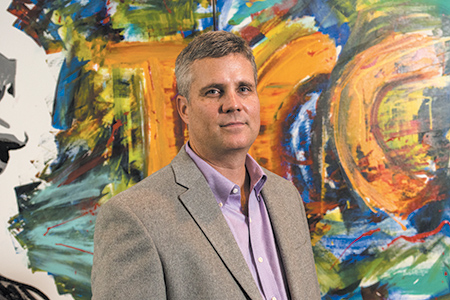 Chief Financial Officer
Round Room/The Cellular Connection/Redux
With more than 1,200 retail stores nationwide, The Cellular Connection is the country's largest Verizon Wireless retailer. As CFO, Jensen has overseen multiple acquisitions, earning Cellular Connection the Top Verizon Retailers Award in 2016. 
Education: Jensen was exposed to finance and accounting early, thanks to his father's owning the leading producer of airline ticket counters in the country. "I had a huge passion for understanding the numbers," he said, "being able to see the world through numbers and seeing opportunities through data." He earned his bachelor's in accounting and finance from Indiana University, where he also played varsity baseball.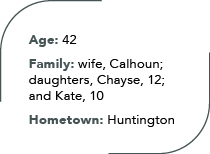 Career path: "My goal was to get out of Indy, get exposure to different communities, and then to come back." He did just that, heading to Chicago to work with PricewaterhouseCoopers and then Accenture before returning to the state with Lincoln Financial in Fort Wayne. When Lincoln moved to Philadelphia, he was offered a promotion but, instead, he reached out to recruiters and stumbled upon Moorehead Communications, "a crazy little company in Marion" that would become Cellular Connection. He joined as its first CFO, but "couldn't imagine it would go from less than $200 million to $2 billion in eight years." 
Major company achievements during his tenure: He helped lead the company's expansion to more than 500 locations, including those acquired from one of its largest competitors, Wireless Zone. The company also acquired a majority stake in Redux, which owns a patented process for removing liquid from electronic devices. "We had the opportunity to leverage TCC as its first customer," he said. It's now available in over 1,500 retail locations. Jensen now serves as CFO for Round Room, the parent company of Cellular Connection, Wireless Zone and Redux.
Recent business challenge: "Wireless Zone was tied up in a lawsuit for years between the franchisees and current owners, with little movement," said Jensen, who made clear he could resolve the lawsuit if he were allowed to work with the franchisees. "If I was able to resolve the lawsuit, then I would be able to acquire the business at a favorable price. After several weeks of working with both sides, at 4 a.m., outside a Connecticut courthouse, all parties came to a resolution to end the lawsuit, which cleared the path for us to make the acquisition."
Unique challenges in the cellular field: Jensen notes two. First, the ever-changing wireless industry. Second, the running of a supply chain for small retail stores. He took over that process in 2016 and quickly restructured the team and several key contracts, added employees, and recommended a few tweaks. As a result, the company reduced its carrying costs 25 percent while significantly increasing its inventory of popular items. Write-offs and wasted effort were reduced while profit margin grew.
Givebacks: Jensen serves on the board of the Indiana chapter of the American Red Cross and the regional advisory board and governing board for Make-A-Wish Foundation. 
Downtime: In addition to family time and running, Jensen said he is "still trying to live the glory days by playing in a men's adult baseball league twice a week."•
Check out more CFO honorees.
Please enable JavaScript to view this content.