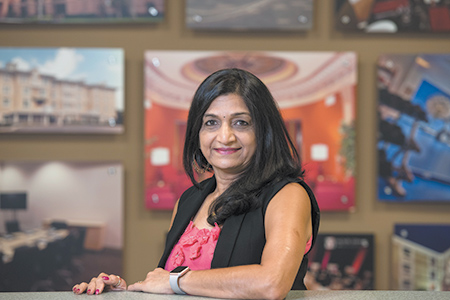 Chief Financial Officer
Sun Development & Management Corp.
Patel helped grow her family's Sun Development & Management Corp. from a single hotel to a business with 3,000 rooms spread across 23 hotels that generate about $108 million a year in revenue. The company has nearly $300 million in hotel assets in construction. "My role as CFO in our company has continued from 1989 to today, managing all capital reinvestment, operating profits, construction loans and refinancing," she said.
Education: Patel was working on her bachelor's in science from Bardoli College in India, but her education was interrupted by her move to the United States.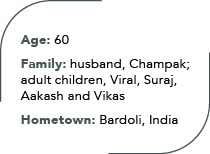 Career path: In 1976, Patel joined her husband and two brothers-in-law in New Jersey, where they bought a hotel. And then another. Then another. Patel did everything from front-desk work and laundry to keeping the books. "We were trying to get into a business that put all the family to work at the same place and then grow from there." They did, moving to properties in Mississippi and then relocating to Indianapolis. An SBA loan, combined with $100,000 saved over five years, got them a Days Inn on Emerson Avenue, where they lived and worked. "Two years later," she said, "we pioneered in Indiana the development of national-brand hotels in small towns, working directly with municipalities to create hotels that otherwise would not be built in such towns." In 1991, in Rochester, they built the company's first hotel from the ground up. By 2000, they had 16 hotels.
Major company achievements during her tenure: It's a point of pride that her company has grown from $100,000 in 1989 to $300 million, a figure that includes operating and construction revenue. There have been buyout offers, she said, but "we just don't want to do it. We are a family. We never had to sacrifice that hospitality mind-set or our culture as a company to the demands of Wall Street or outside capital."
Recent business challenge: "Without a doubt, the 2008 financial crisis," she said. At the time, the company had 14 hotels under construction. "Even as we completed assets, the financial projections and completion values of those new hotels plummeted by 30 percent from original estimates, and the completely frozen credit markets made refinancing those impossibly difficult." 
Unique challenges in the hotel business: "Most hotel companies are not vertically integrated," she said. "Some develop and construct, some own and operate, some manage day to day, but very few do all of those things because of the differing types of capital requirements. I am constantly … rebalancing to meet our ongoing capital needs so that we can remain a full-service hotel company."
Givebacks: Patel is an active member and financial supporter of Hindu Temple of Central Indiana and has sponsored three children through Plan International USA. She is also involved in the campaign of her son, Suraj Patel, who is running for a congressional seat in New York.
Downtime: "I love to garden, and I love my dogs. We built an amazing sanctuary."•
Check out more CFO honorees.
Please enable JavaScript to view this content.