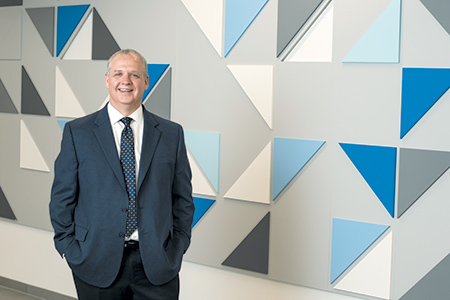 Executive Vice President of Corporate Services, Chief Financial Officer
Allied Solutions LLC
A provider of insurance and related products for over 35 years, Allied Solutions is a wholly owned, independently operated member of Securian Financial Group, which bought the firm in 2004. As its CFO since 2009 and an employee since 1993, Urbanski has been instrumental in the company's $32.9 million move to Carmel's Midtown District, allowing for a projected expansion of more than 600 jobs by 2025. 
Education: "One of my older brothers was a significant role model for me," Urbanski said. "He seemed to have a good life, so I just followed in his footsteps." Those footsteps led to Butler University, although Urbanski switched from an accounting major and, instead, earned his bachelor's in business administration.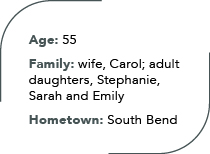 Career path: After a few years at Indiana National Bank, Urbanski realized it wasn't what he wanted to do. He shifted to Price Waterhouse, got his CPA license, and became CFO of Fairbanks Hospital. He shortly transitioned to Eldredge Lender Services, which merged with FLS Services to become Allied Solutions LLC. The biggest challenge of a merger: "You never really know what you're dealing with until you complete the deal … . It just takes a lot of hard work to get things sorted out." 
Recent business challenge: In addition to developing new internal-management reporting tools to monitor and track operational and non-operational margins and earnings, Urbanski has had to help figure out how to move 450 employees to Allied's new headquarters. "This will be home for the next 13 years," he said. "In addition to the impact on Allied, this has a significant impact to the city of Carmel and our community … as we see this once-vacant and inactive part of the city transform into a major and unique commercial and community center."
Unique challenges in the insurance field: "The impact of technology and online lending continues to grow significantly," Urbanski said. He added that selling products online, absent the traditional face-to-face interaction at the financial institution, represents both an opportunity and risk. Regulations require significant attention "in terms of compliance, information protection and system security with all the products, services and solutions we provide to our clients."
Beyond the office: In 2015, Allied became season sponsor at the Center for the Performing Arts in Carmel, with Urbanski
overseeing the relationship. "We knew how valuable the center was to the community and felt it was a great place for us to provide support." Urbanski has also served for almost 24 years as minister of welcome for Our Lady of Mount Carmel Catholic Church. "I think it's an important job. When people come to church, they are welcomed. I think it's an underplayed part of mass." 
Downtime: Along with performances at the Center for the Performing Arts, Urbanski enjoys attending sporting events at Butler and Notre Dame as well as Colts and Pacers games and "an occasional round of golf."•
Check out more CFO honorees.
Please enable JavaScript to view this content.