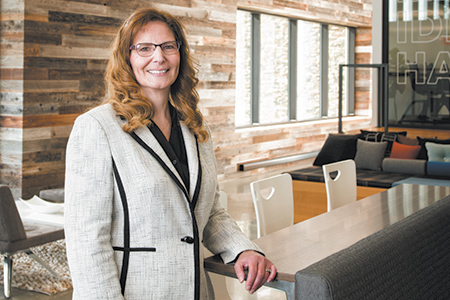 Vice President, Chief Financial Officer
Kimball International Inc.
Kimball is still remembered by many as a piano and organ company, at its peak in the 1970s selling 100,000 pianos a year. But the Jasper-based company now creates design-driven furnishings for the health care, education, hospitality, finance, government and office industries. Schroeder has helped lead it to $670 million in revenue in fiscal 2017. Her leadership is credited with Kimball International's being named to the Top 10 Public Companies by the INVESTIndiana Equity Conference in 2016.
Education: For Schroeder, her work with Kimball began before college … in the marketing department. "I worked a lot with reprinting brochures and literature. Part of that involved budgeting, and that's when I got interested in finance." The interest led to an accounting degree from the University of Southern Indiana.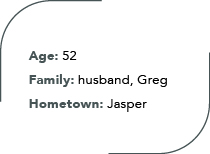 Career path: Because of Schroeder's earlier work with Kimball, she wasn't an unknown quantity when the company hired her full time. Her new role as a financial analyst soon led to her being named director of the department and then assistant corporate controller. "Assistant" was dropped about two years later. Title changes continued and job responsibilities increased until 2014, when she was named to her current position.
Major company achievements during her tenure: Spinning off the company's electronics segment. "We had nine months to complete all of the work necessary … including ensuring that each company had a finance staff capable of supporting it after the split," she said. Schroeder was vice president and chief accounting officer when the spin-off was announced and would assume the CFO role after the deal was complete. Just after the separation, the furniture side had income that was less than 2 percent of sales. "We had to do something to turn the company around quickly," she said. Those decisions included consolidating operations, cost-cutting and other restructuring that led to operating income now at 9 percent. She also improved corporate governance and expanded investor-relations outreach and communication. "We didn't do a whole lot before. Now we regularly meet with investors on road shows and at investor conferences."
Recent business challenge: The spin-off. Included on the to-do list: numerous SEC filings, financial and payroll system changes, setting up new bank accounts, revising credit facilities and changing insurance policies. "All of this was on top of the normal work the team was responsible for. And we did it all with our internal staff."
Unique challenges in the furnishings field: It's a cyclical business. "Furniture is a discretionary spend," she said, "so when there is weakness in the economy, delaying spending for renovation and new construction projects occurs early in the cycle and it takes longer to recover." That being said, Schroeder points out the company's history of adaptation. "The founders always have been very visionary. [They] saw pianos and organs going by the wayside and said, 'What else can we get into?'"
Givebacks: Schroeder serves on the board of advisers for the USI College of Business and is past president of the Southern Hills Counseling Center board. She's also on the finance committee of St. Mary's Catholic Church of Ireland, Indiana. 
Downtime: Time with family and a bit of golf. "I'm not the best, so I do the par 3 course, which is not so frustrating. It's nice to get outside."•
Check out more CFO honorees.
Please enable JavaScript to view this content.