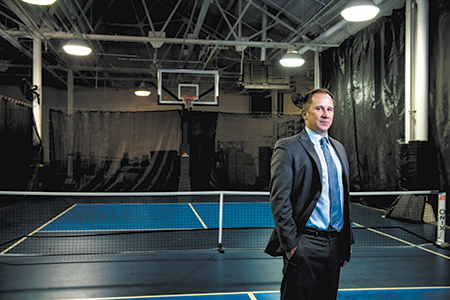 Vice President of Finance, Chief Financial Officer
Escalade Inc.
Generating more than $167 million in revenue from an array of sporting goods and fitness brands, including Goalrilla, US Weight, PER4M and Cajun Bowfishing, Escalade has seen growth for the past six years. "During the 12 years I have been at Escalade, we have undergone many changes," Wawrin said. "We have had to survive the firing of our largest customer [Sears] in the mid-2000s, survive the depression, consolidate our manufacturing facilities, develop an office in China, and close/integrate multiple acquisitions/mergers… . We continue to remain in front of our competitors in the ever-changing landscape of retail and have been successful in adapting to online sales."
Education: With a father who majored in accounting and mother who majored in finance, Wawrin's interest in the monetary side of business seemed predestined. He earned his bachelor's in accounting and an MBA, both from Murray State University.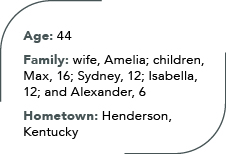 Career path: Work life took Wawrin from washroom accessory manufacturer GAMCO Products—where he worked while earning his MBA—to a supervisory position with BKD before becoming corporate controller at Escalade. That led to his becoming vice president of the Escalade Sports division and then CFO.
Major company achievement during his tenure: To get through the recession—which was hard on sporting goods—the company "cut costs more than we thought we had to. If analysis showed 20 percent, we cut 25 percent. So we were able to out-survive our competitors." A series of acquisitions improved matters further. "All are different. There's not a formula," he said. "But we try to acquire ones that are extensions of what we know." Tightening of management also helped. "There were probably 12 VPs on the sports side alone. Now there's four. A smaller management team can make quicker decisions. If we are going to fail, we are going to fail fast and learn."
Recent business challenge: "Over the past few years, one of the major categories we participate in has been in a decline," he said. Well, not exactly a decline. "There was an anomaly … a spike," he said, in archery equipment, thanks in part to "The Hunger Games," "Brave " and the Olympics. After the spike, "we had to right-size the company's employee base to adapt to a smaller market. The management team had to analyze the situation, plan for the future, and make the appropriate difficult decisions." On the other hand, "we have two pickleball courts in our facilities. It's one of the fastest-growing sports in America. We bought two companies in that realm."
Unique challenges in the sporting-goods business: Big retailer bankruptcies, including The Sports Authority and Gander Mountain, have a big effect on sales. "This has created a closer look at credit limits and terms throughout the industry," he said.
Givebacks: Coaching for local basketball and soccer leagues and volunteering for church and school activities. 
Downtime: "Spending time/traveling with my wife and family, coaching/watching my kids' sports activities, golfing, boating, hiking, biking and most outdoor activities"—with, he said, just about every Escalade product.•
Check out more CFO honorees.
Please enable JavaScript to view this content.