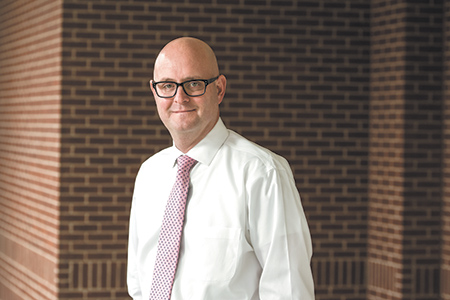 City Controller, Deputy Mayor
City of Lawrence
When Fenwick started his position in Lawrence at the beginning of last year, it didn't take him long to rack up a list of achievements. He increased the end-of-year general operating fund's reserve to 11 percent of the city's budgeted expenditures ($2.3 million in 2016 with an additional $500K projected for 2017). He balanced two budgets, grew the investment in parks and recreation 18 percent in the 2018 budget, built relationships with the local school system's health clinic to expand coverage, and created an employee handbook to guide department heads and other staff members. He also found time to start an internship program for college finance majors. 
Education: Fenwick switched his chemistry major to mathematics at Indiana University. His goal wasn't to work in government, but an interview with the city of Indianapolis led to five years as investments and financial administrator, then chief financial officer, for the department of public safety, before becoming the city's deputy controller. "I loved every minute of it," he said.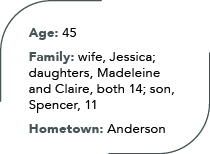 With an MBA in finance earned in the evenings from the IU Kelley School of Business, he moved to Chicago for what would become 15 years of investment banking, only to return to city politics, first as controller for the city of Anderson then, after an administration change, to his current positions in Lawrence. "Government gets a bad rap," he said, "but if you come in and really embrace it, you get exposed to so many different things you might not get in a typical corporate position."
Major achievements during his tenure: Under his watch, the city of Lawrence received a Standard & Poor's rating upgrade from A to A+. He presented balanced budgets for both 2017 and 2018, leading to the Government Funding Officers Association's Distinguished Budget Presentation Award for 2017, a first for Lawrence.
Recent business challenge: In 2015, Lawrence's water utility was downgraded to junk status. "A variety of factors went into that," Fenwick said, not the least of which was that financials were non-existent. "Our first order was to start producing financials," he added. Those, combined with new policies and procedures, and a rate study that resulted in an increase, led to a two-notch upgrade to BBB. "The great part is that we had two municipal bonds outstanding in '07 and '09 that should have been re-funded but couldn't. With the upgrading, we're re-funding and, based on the current market, could save over $1 million."
Unique challenges in government: "Providing increasing demands for service from the public while revenues remain essentially flat."
Givebacks: Fenwick served on boards for the Madison County YMCA and Habitat for Humanity and was a member of the finance committee at First United Methodist Church.
Downtime: cycling, playing backgammon and watching IU basketball•
Check out more CFO honorees.
Please enable JavaScript to view this content.