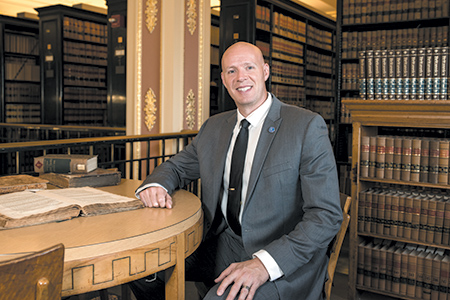 Chief Financial Officer
Indiana Supreme Court
As the first CFO in the history of the Indiana Supreme Court, Hood took over as the court was preparing budget proposals for 2018-2019. His work helped land a nearly $6 million increase in funding, going directly to programs benefiting the courts, communities and litigants.
Education: "I actually started thinking pre-med," Hood said, "but midstream sophomore year, I switched to accounting. I thought everyone needs it no matter what field and I wanted a better work/life balance." He graduated with his bachelor's in accounting from Southwest Baptist University, later earning his MBA there.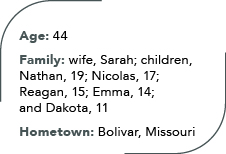 Career path: The road to the Indiana Supreme Court began with a series of positions at Citizens Memorial Hospital in Bolivar, Missouri, then as controller for Duck Creek Technologies and Southwest Electric Cooperative. Wanting to move near his wife's family, he worked with the city of Indianapolis/Marion County Information Services Agency as project director and then CFO. Stints later with USA Track & Field Inc. and BCforward led to the Indiana Department of Transportation and then to the Indiana Supreme Court. 
Major achievements during his tenure: "Before my time, they had a national center for state courts. Prior to this, staff with fiscal responsibilities were dispersed across agencies and reported to different managers," he said. "The court also had multiple accounting systems and processes across agencies." First steps included developing a plan—both internal and with other state agencies—to communicate and educate staff and stakeholders about budget and financial procedures. "This transition has taken many months and lots of education/training/discussions to get everyone on the same page … . Change is hard. Thankfully, the Supreme Court family was up for and succeeded in the challenge."  
Recent business challenge: Changing the budget process. "Previously, detailed line-item budgets for each department and fund of the Supreme Court weren't standardized or always readily available. We prioritized this for every program, and all directors participated to help us create, monitor and take ownership of a standardized budget for each of their respective areas."
Unique challenges in government: "More hoops to jump through to get something done or make changes; processes/systems can be behind the times; accountability and transparency to the taxpayers is necessary; dealing with multiple agencies and branches of government along with changing administrations and personnel." On top of those, he said, government workers are often unfairly stereotyped as lower-paid and therefore lower-skilled relative to their private-industry counterparts. The government also is expected to live within its means. "In the budget given to you by the Legislature, there's not the same flexibility as some private or other non-profit organizations have. You get what you get and manage accordingly. Often, budgets shrink year over year and you must learn to adapt and do more with less."
Givebacks: Hood is head coach of the Covenant Christian High School boys' volleyball team.•
Check out more CFO honorees.
Please enable JavaScript to view this content.