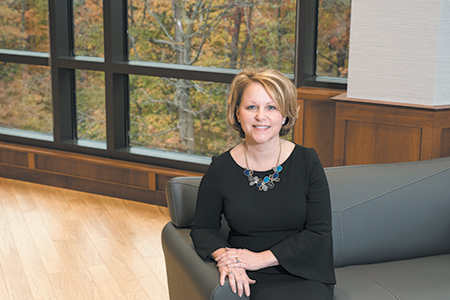 Executive Vice President, Chief Financial Officer
Hoosier Energy Rural Electric Cooperative Inc.
Bloomington-based Hoosier Energy, founded in 1949, generates coal, natural gas and renewable energy that power its 1,700-mile network. Hired as manager of financial services in 1995, Walker was promoted to her current position in early 2016. 
Education: Walker's father owned a store that sold "everything from lawn mowers to tennis shoes," she said. "One of his friends was a CPA and I thought what he did was cool. I'm sure I didn't know what he did back then." The interest was enough to lead her to Indiana University, where she earned a bachelor's in business with an accounting concentration.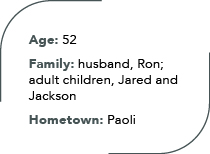 Career path: Walker interned in the Cincinnati office of Coopers & Lybrand (now PricewaterhouseCoopers) and joined the firm's Indianapolis office full time following graduation, rising to business assurance manager. "Some folks there concentrated on insurance and banking," she said. "I was more of a generalist." She jumped to Hoosier Energy as manager of financial services and progressively advanced to a senior executive level. 
Major company achievements during her tenure: Within the last two years, Hoosier Energy formalized a distinct long-term corporate strategy function. "I was given leadership responsibility for developing the company's strategic planning process and overseeing execution of the plan," she said. "The process includes identifying and monitoring industry trends and developments, which will shape our business for the next 10 to 20 years, and developing strategies to successfully address opportunities and risks."  
Recent business challenge: Walker is leading Hoosier Energy's cross-functional team addressing the U.S. Environmental Protection Agency's Clean Power Plan, which seeks to reduce 2005-level carbon emissions from power plants 32 percent by 2030. "It fundamentally affects every business and individual consumer," she said, "and alters how electricity is generated and used in the United States." Walker and her team met with representatives of the Governor's Office, the Indiana congressional delegation, the EPA, state regulators and others to share their thoughts and experiences while encouraging consumers to make their voices heard. "Hoosier Energy not only expressed its concerns, but more importantly put forth an alternative framework to the rule, which would achieve similar emission reductions while addressing those concerns." 
Unique challenges in the energy field: "We are always striving to find the right balance among reliability, affordability and environmental stewardship."
Beyond the office: "With my son recently graduating college, I have a soft spot for speaking to young men and women and sharing whatever experiences I can." She's addressed career classes at IU Kelley School of Business and served as a judge for the IU Kelley School of Business/Purdue University Krannert School of Management business case competition. She has also been a facilitator of financial-management workshops for United Way of Central Indiana 
Downtime: Walker took up running in 2012 at the age of 47, by adding a short run to the end of her walks. She'd run the distance between electric distribution poles near her house. "The yards turned to a mile, one mile turned to three, etc." She's now working on running a half marathon in each of the 50 states.•
Check out more CFO honorees.
Please enable JavaScript to view this content.