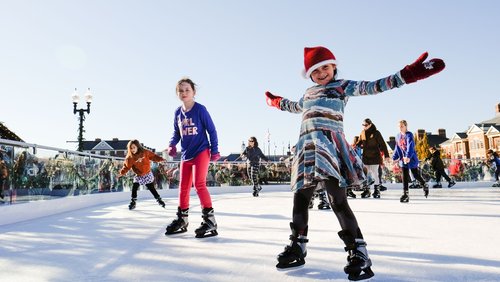 Carmel's new German-themed holiday market and ice rink are off to a fast start, the city reported Tuesday.
The Carmel Christkindlmarkt and Ice at Center Green attracted 48,000 visitors during the first five days they were open, the city said. About 4,000 of those people were skaters.
Sales at the market and fees and skate rentals at the rink totaled more than $410,000 in those five days, the city said, calling that figure "robust."
The attractions opened Nov. 18 and are scheduled to be operate daily through Christmas Eve, except on Mondays and Tuesdays.
The Christkindlmarkt and ice rink were part of the city's $5 million project to transform the Center Green in front of the Palladium.
In June, the city created a not-for-profit called Carmel Christkindlmarkt to oversee the market and hired Maria Murphy to be the CEO of the organization and market master. The city hired Carmel Ice Skadium to operate the ice skating rink.
"We are very encouraged by the number of visitors to the market and the sales we are experiencing," Murphy said in written comments Tuesday. "We are already reordering some of our most popular items. Visitors are truly enjoying the opportunity to get some unique authentic hand-crafted gifts."
The Carmel City Council gave the Christkindlmarkt a total of $420,000 to fund the first year of operations. A budget prepared in June for the first year of the event expected $737,500 in revenue and $541,625 in expenses.
Murphy said organizers have been considering changes for next year and are already making adjustments this year as they receive feedback from visitors. Among them will be raising rink capacity from 150 to 200 skaters per session to prevent popular times from selling out. Other planned changes involve concessions and signage on roads around the attractions.
Please enable JavaScript to view this content.