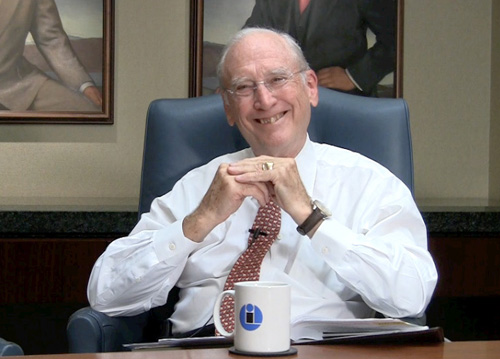 Andre B. Lacy, a titan in the local business world and a major civic leader and philanthropist, died Thursday in a motorcycle crash in Botswana, Africa. He was 78.
Lacy, chairman and retired CEO of Indianapolis-based LDI Ltd. LLC, helped transform what started in 1912 as U.S. Corrugated Fibre Box Co. into one of the largest private companies in the state.
In a statement, LDI said Lacy died in a single-rider accident while on a private motorcycle tour.
Along with his 56-year career with the family company, Lacy was known for his prolific work on corporate boards and as an leader of several influential civic organizations. But he is likely to be best remembered for his recent philanthropy, which included a $25 million gift to Butler University's college of business and $2 million donation toward the restoration of Indiana Farmers Coliseum at the Indiana State fairgrounds.   
The college was renamed the Andre B. Lacy School of Business in April 2016 after Lacy and his wife, Julia, made the gift. It was the largest donation Butler had ever received from an individual or family. Julia died Dec. 31, 2016, after 53 years of marriage to Andre.
"Andre Lacy was a business and philanthropic heavyweight with a giant heart for public service," Gov. Eric Holcomb said Thursday in written comments. "Throughout his life, he gave away his time, talents and wealth to improve Indiana—with a deep focus on building civic engagement."
Lacy has been chairman of LDI—the city's second-largest private company—since 1992. He was CEO of the company formerly known as Lacy Diversified Industries from 1983 to 2006.
LDI was founded as U.S. Corrugated-Fibre Box Co. in 1912 by Lacy's grandfather, H.J. Lacy Sr. The company was later led by Andre's parents, H.J. Lacy II and Edna B. Lacy.
The Lacy family sold U.S. Corrugated for an undisclosed sum in 1984 and created a buyout company that typically retains firms in its portfolio for 15 years or more.
Lacy began his career in 1961 as an analyst at U.S. Corrugated. He later was executive vice president and chief operating officer of that firm and executive vice president and chief operating officer of Lacy Diversified.
Over the years, Andre Lacy held leadership positions in a number of civic organizations including Indianapolis Public Schools, Indianapolis 500 Festival Association, United Way, Economic Club of Indianapolis, and Central Indiana Corporate Partnership.
"Karen and I were deeply saddened to learn of the passing of a truly great Hoosier, our friend Andre B. Lacy," Vice President Mike Pence said in a written statement. "We offer our deepest condolences and prayers to his family and friends during this difficult time. Andre Lacy dedicated his life to service, and his contributions to the life of this state and nation will benefit Hoosiers for generations to come. Like so many others, I was always inspired by his example of integrity and generosity. Andre Lacy will be greatly missed, but his memory and legacy will never be forgotten."
Lacy was on the board of Hulman & Co., owner of the the Indianapolis Motor Speedway, and had been chairman of the Indiana State Fair Commission since 2009.
"His longtime service as chairman of the Indiana State Fair Commission has been essential to the ongoing success of this state resource," Holcomb said. "In fact, it is only through his generosity and leadership that Indiana was able to renovate and unveil the Indiana Farmers Coliseum in 2014. Andre's legacy will live on through this landmark and the many lives he has positively impacted. His passing is a great loss, and Janet and I extend our sincere condolences to the Lacy family."
Hulman & Co. CEO Mark Miles, who formerly was CEO of CICP, said in written comments: "Andre's loss is an incredible shock to everyone. It would be difficult to exaggerate his transformative impact on our city and state, as well as Hulman & Company as a member of our Board of Directors."
Miles added: "His success as a business and civic leader was remarkable and impactful beyond measure. But it's his unfailingly positive personality, extraordinary judgment and wise guidance we'll miss most. Andre's positive influence in all aspects of our community will leave a real gap we all must work hard to fill."
Lacy's other board experience included IPALCO Enterprises, National Bank of Indianapolis, Merchants National Bank, National City Corp., Herff Jones, Patterson Cos., Ethyl Corp., Albemarle Corp., Tredegar Corp. and First Colony Insurance.
He also served as chairman of the Indiana Chamber of Commerce and the National Association of Wholesaler-Distributors.  
He received his economics degree from Denison University.
Lacy, an avid motorcycle enthusiast, told IBJ in June that he had ridden more than 200,000 miles. LDI's highest-profile company in recent years has been Motorsport Aftermarket Group, a manufacturer, distributor and online retailer of aftermarket products for the motorcycle industry.
Lacy's son, J.A. Lacy, was named CEO of LDI in 2013, becoming the fourth generation of the family to lead the business.
"We are saddened to share the news that Andre B. Lacy passed away this morning," J.A. Lacy said in written remarks. "Andre was known for his entrepreneurial fire and sense of adventure in business and life. We take comfort knowing that he passed away while pursuing one of his passions in life, and are inspired by the legacy of leadership that he leaves."
Purdue University President Mitch Daniels, who was one of three Indiana governors to recognize Lacy as a Sagamore of the Wabash for his distinguished service to the state, praised Lacy's willingness to serve.
"Indiana lost one of its greatest citizens and countless of us lost a genuinely great friend," Daniels said in written remarks. "He said yes to every civic task he was asked to undertake, and there was never a time that he didn't use his tremendous talent for good. A state can never have enough people like Andre Lacy."
Indianapolis Mayor Joe Hogsett issued the following statement Thursday:
"My heart is heavy to hear of the passing of Andre Lacy," he said. "Countless Indianapolis businesses, organizations and philanthropic endeavors have benefited from Andre's leadership, yet his legacy is truly defined by the values and principles that he lived by. Because of his integrity, innovation, and generosity, Andre leaves behind an Indianapolis that will be even better for the next generation."
Please enable JavaScript to view this content.