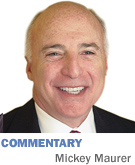 I had a chance to catch up with Big George for lunch at the Meridian restaurant last month. That's Big George, as in George McGinnis—as in National Basketball Hall of Famer George McGinnis.
McGinnis recently joined the ranks of eight players with Hoosier roots to be so enshrined. (See sidebar.) He already was a member of the Indiana Basketball Hall of Fame and the Indiana University All-Century Team. All eight Hoosiers assembled a body of work worthy of Hall of Fame honors, but few can match McGinnis, the man, when important intangibles are evaluated.
In 1969, McGinnis led Washington High School to a state title with a perfect 31-0 record. He was named Mr. Basketball. (He might have become an even better football player. He was the first high school athlete in Indiana history to be named a Parade magazine first team All-American in football for three straight years.) His 53-point, 30-rebound performance in the Indiana/Kentucky All Star game that year moved sportswriter Bob Hammel to comment, "It was simply the best game I ever saw a basketball player—at any level—play." As the game went on, Kentucky All-Star Joe Voskuhl was calling McGinnis "sir."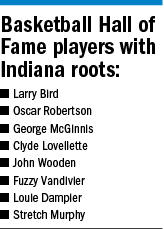 At Indiana, McGinnis became the first sophomore to lead the Big Ten in scoring and rebounding. (Freshmen were not eligible to play.) He was named an All-American. An original "one and done," McGinnis signed with the Indiana Pacers after his sophomore year at IU because, due to the untimely death of his father, his family was financially stressed. His entire signing bonus was used to buy a house in Indianapolis for his mother—the one she lives in today.
In 1972, McGinnis was named ABA rookie of the year. In the NBA, his teammate, Julius Erving, said that McGinnis was built like superman. He also played like superman. He averaged 25.2 points and 12.9 rebounds in the ABA; in the NBA, he averaged 17.2 points and 9.8 rebounds. It was said by a competitor that "the only way to stop McGinnis is to hope he feels sorry for you." George loved to win. He collected championships, all-star recognitions and MVP awards at every stop.
George is thrilled to be inducted into the national hall of fame, but years ago he realized that athletic honors are not the essence of life. McGinnis advises young people to stay centered and "never forget where you came from, and no matter what kind of money you make, always be humble. Look at it as a blessing and try to be helpful to others."
His Pacers Coach, Bobby "Slick" Leonard, advised him that, "it doesn't make a difference how good you are, you are nothing until you do something for somebody else." George accepted that advice and lives it every day.
Many wonder why it took the Hall more than 35 years to call. McGinnis wondered too, but his feelings were muted. Perhaps voters finally realized that it was time for a true Hall of Famer, one who would not disrespect the American flag during the playing of the national anthem or steal sunglasses while on a "goodwill" tour. Perhaps the voters wanted a player who pursued a brilliant career with civility and class. Should there be room in any hall of fame for steroid cheaters, gamblers, thieves and recruiting rule- violators, whether players or coaches? As long as there are legitimate heroes like George McGinnis, why not limit hall of fame elections to good role models for our children.
Congratulations, George, from one of your fans.•
__________
Maurer is a shareholder in IBJ Corp., which owns Indianapolis Business Journal.  His column appears every other week. To comment on this column, send e-mail to mmaurer@ibj.com.
Please enable JavaScript to view this content.