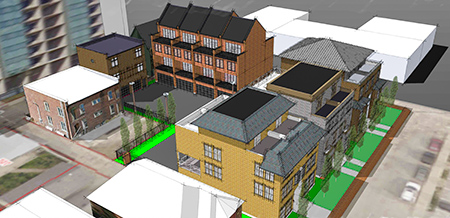 Three residential projects planned south of bustling Massachusetts Avenue could bring about $25 million of new investment and even more density to the growing area.
The projects, proposed separately by Litz & Eaton Development LLC and Block 20 Development LLC, would be built on two empty lots and on property where an existing building sits.
Locally based Litz & Eaton is planning the most ambitious of the three, a $10 million, five-building development consisting of 12 luxury condominiums at the southwest corner of North Park Avenue and East North Street.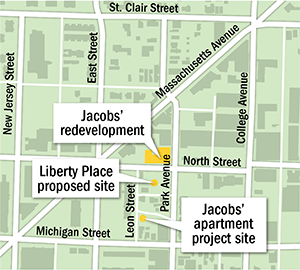 Block 20, also locally based and led by Daniel Jacobs, is selling the nearly one-acre surface lot to Litz & Eaton to focus on other projects in the area. He plans to construct a $4 million, four-story apartment building on a vacant lot on the east side of Leon Street, south of where Litz & Eaton would build, and west of Jacobs' 500 Park Residences condo project along Park Avenue.
In addition, Jacobs said, he is buying the Tway building at the northwest corner of Park and North last occupied by Outlier's Brewing Co.
Jacobs is still finalizing plans for the site but said he wants "to go vertical" on the building with a $10 million apartment project of fewer than 10 stories.
"It will be more than just reusing the building," he said.
Litz & Eaton, meanwhile, will present its plans to the Indianapolis Historic Preservation Commission Dec. 6. The developer hopes to receive approval in January and start construction in February, with completion late next year.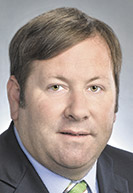 Litz
The Lockerbie Peoples Club is supporting the project, preliminarily called Liberty Place at Lockerbie Square, said Brad Litz, president of Litz Real Estate and a partner in Litz & Eaton Development.
"When people think about moving downtown, that's the A-plus location," he said of Lockerbie.
Liberty Place calls for three buildings fronting Park Avenue with up to two condos in each, and one building along North Street with four units. Another building on Leon Street, on the west side of the property, would include two condos.
The four-story "marquee" units along Park, with garages on the ground floor, will measure 2,750 square feet to 3,400 square feet and start at $1.1 million.
Along North Street, the units also stand four stories but with smaller layouts up to 2,500 square feet. They're priced from $750,000 to $850,000.
The two, three-story attached units on the east side of Leon Street are 1,300 square feet and priced in the $450,000 to $500,000 range.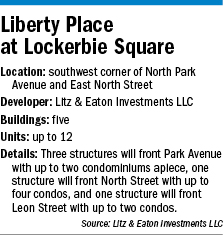 Litz & Eaton's condominium project, combined with Jacobs' plans for the apartment building to the south, present opportunities to develop two of the last remaining lots in the historic Lockerbie neighborhood.
At the northwest corner of College and East Michigan, TWG Development LLC built on a vacant lot the 215-unit Lockerbie Lofts apartment project that opened in 2016.
And Jacobs built 12 condos ranging from nearly $400,000 to $1.2 million for his 500 Park Residences project at the northwest corner of East Michigan and Park. Two lots he sold immediately to the north of the condos are the site of a recently completed $1 million house and another under construction.
The condos and houses are directly south of the lot where Litz & Eaton intends to build and where Jacobs had planned to build a second phase to 500 Park Residences.
Jacobs had toyed with a high-rise apartment development on the Park and North site but scrapped the plans and instead decided to sell to Litz & Eaton, he said.
"I think what Litz is doing is more in line with what folks might want to see on that particular property," he said.
The condo project and Jacobs' plans for the Tway building will create even more density in the area and help link Massachusetts and College avenues, where Milhaus Development LLC built the Circa apartments on the east side of College and where St. Joseph Brewery & Public House opened across the street in 2015.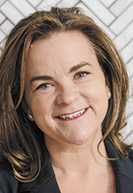 Esselman
The not-for-profit promotion group Downtown Indy is familiar with Litz & Eaton's proposal and is in favor of it, said Catherine Esselman, the organization's real estate development manager.
"I'm excited that that's the route they're going," she said. "The use is exactly what I would want to see there."
Even so, Esselman said downtown needs more affordable-housing options.
"That's where the gap in the market is," she said. "It's not high-end condos; we have plenty of those. But this [Litz] lot is at Main and Main, so I think it's appropriate for the location."
Litz & Eaton traditionally has built and rehabbed homes on the north side of the city but is making a push into downtown as part of a growth strategy. In the 1800 block of North Pennsylvania Street, the company received approval to build 13 town homes priced at $499,000 to $750,000.
Jacobs is active in the Lockerbie neighborhood and is partnering with the Athenaeum Foundation on Block 20, a $20 million mixed-use development next to downtown's historic Athenaeum building.
The development, immediately east of the Athenaeum and fronting Michigan Street, would include 67 apartments, about 10,000 square feet of retail space, and a 229-space parking garage.
But several neighbors in January filed for a review, arguing that the project violated a restrictive covenant on the property for only "residential" construction and that the IHPC was obligated to enforce the covenant.
After a Marion Superior Court judge ruled in favor of IHPC and Jacobs, the neighbors filed an appeal. The Indiana Court of Appeals is reviewing the case and could render a decision early next year.•
Please enable JavaScript to view this content.