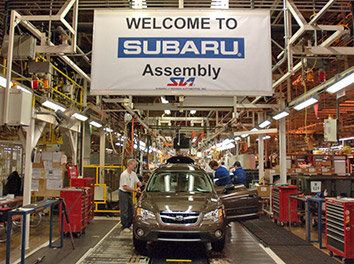 As it adds the Ascent SUV to its roster, the Subaru of Indiana Automotive plant in Lafayette plans to boost its already enormous workforce by as many as 200 employees by the end of 2018.
The Subaru Ascent, which was unveiled on Nov. 28 at the Los Angeles Auto Show, is a three–row crossover vehicle that has the capacity to hold as many as eight passengers. The Subaru of Indiana plant is in the process of adding $140 million in equipment for production of the Ascent. The planned hires announced Friday would support increased production at the plant.
Subaru of Indiana currently employs more than 5,600 workers at the plant and expects to produce approximately 400,000 vehicles in 2018, including the Subaru Legacy, Impreza, Outback and Ascent.
The Indiana Economic Development Corp. has offered Subaru of Indiana Automotive Inc up to $500,000 in training grants based on the company's latest job creation plans. The incentives are performance-based, meaning they can't be claimed until jobs are filled.
In 2015, Subaru announced its intention to start production of the SUV in Lafayette sometime after 2017. At about the same time, it announced plans to  add $140 million in new equipment and create as many as 1,204 jobs to increase its production. It since has surpassed that hiring goal.
On one hand, the Ascent is more of what's been driving Subaru's success—another all-wheel drive crossover model that'll be built at its expanding Indiana assembly plant. But it's also filling a major void in the company's lineup: Subaru has lacked a three-row SUV since production of the Tribeca ended almost four years ago.
"With regard to Subaru passing Hyundai, it's entirely possible," George Glassman, the owner of a Hyundai, Kia and Subaru dealership in Southfield, Michigan, told Bloomberg News. Subaru learned from what "went awry" with the Tribeca, which struggled because of styling and the trouble passengers had getting in and out of the SUV, he said.
Glassman predicted the Ascent will be a "true competitor" against midsize SUVs like the Toyota Highlander, which has logged sales of more than 175,000 units this year in the U.S. Even a fraction of that sort of volume could be enough for Subaru to usurp Hyundai next year.
Subaru trails its South Korean competitor by less than 32,000 vehicles in the U.S. through the first 10 months of 2017. A year ago, Hyundai led by almost 150,000 units.
Please enable JavaScript to view this content.