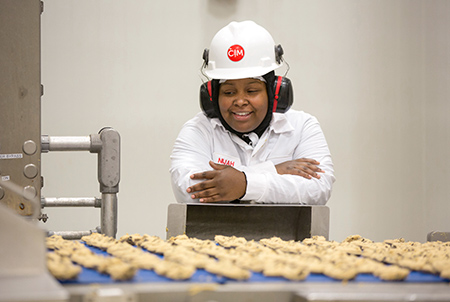 CraftMark Bakery LLC, an industrial bakery on the west side of Indianapolis, is planning a $56 million expansion that would create 118 jobs over the next three years. 
CraftMark makes frozen bread dough, frozen cookie dough and ready-to-eat flatbread for quick-service restaurants and in-store bakeries. The company's current facility, a 225,000-square-foot building in the Purdue Research Park at AmeriPlex, was built in 2014 and started shipping its first products early the following year.
Now, the company is planning a 120,000-square-foot addition to its existing building to increase its production capacity, and it is seeking local incentives in connection with the project. 
According to paperwork filed with the city of Indianapolis' Department of Metropolitan Development, CraftMark proposes spending $16.4 million on the building addition, and another $40 million in manufacturing equipment, by the end of 2018. In connection with the expansion, CraftMark would retain the 278 existing jobs and add another 118 positions by the end of 2020.
This expansion is in line with CraftMark's previously announced plans. In May, the bakery told IBJ it was planning an expansion of its plant by the end of this year.
The company is seeking two separate incentives from the city: a 10-year real property tax abatement and a 10-year personal property tax abatement. Both of these incentives are phased, starting with a 100-percent abatement in the first year and diminishing in subsequent years.
Even with the abatements, CraftMark will still be paying local taxes—the abatements only cover the increased tax liability that CraftMark expects to incur from its expansion project.
Over the life of the abatements, the city estimates, CraftMark would save about $1.2 million in real property taxes and pay about $1.5 million in real property taxes relative to its new investment. The company would save about $2.5 million in personal property taxes and pay about $2 million in personal property taxes.
On Wednesday afternoon, the Metropolitan Development Commission is expected to consider whether the CraftMark property should be designated as an economic revitalization area. This is a standard part of the incentives process.
A public hearing on the incentives themselves is scheduled for Dec. 20.
 
Please enable JavaScript to view this content.