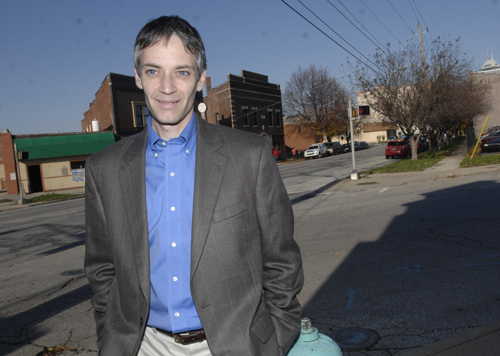 Indianapolis City-County Council member Jeff Miller has finally commented on his reasons for remaining on the council—more than two weeks after he was charged with three felony counts of child molesting.
Council members have been calling for Miller's resignation since the charges were filed Nov. 17.
Marion County GOP Chairman Jim Merritt said Miller indicated to him on the same day the charges were filed that he would resign immediately. And the Republican members of the council have all signed a letter calling for him to quit.
But Miller has continued to attend community events and send out emails and tweets about council-related business. On Monday, he attended a council meeting.
All along, the second-term Republican has ignored questions and declined to say anything about his legal problems. That's until Tuesday afternoon, when he sent the following email:
"I wanted to reach out to everyone with a few thoughts," he wrote. "As has been reported by the news, I have entered a plea of not guilty in my case, but otherwise cannot discuss the details. But I did want to address why I am remaining in my council seat.
"When I ran for council in 2011, it was for one reason only…to give a voice to those who felt they didn't have a voice. As a former neighborhood president, I knew firsthand how it can be difficult to navigate city and county government. I also heard about areas where people felt enough wasn't being done to protect the quality of life we all desire.
"So I have used that voice to push for the issues the district has requested: accountability for slumlords, programs to abate graffiti, laws to protect against metal theft (HVAC coils, catalytic converters), infrastructure repairs of our neighborhood streets and sidewalks, abandoned housing repairs, foreclosed home maintenance, etc.
"I love fighting for the issues that impact you, whether big or small.  Some view the council as a way to gain power, such as being on certain committees or holding certain titles. No, the council is not about having power, but about having a voice and to use that voice to speak for those we represent.  
The only thing I love more than giving you a voice, is being the father of my wonderful son. And so I look forward to continuing to pursue both of these passions to the best of my ability."
Council leaders on Monday stripped Miller of his committee assignments. He was removed from the committees on public works, metropolitan development and community affairs, and was replaced with three other Republican council members.
Miller will still be able to vote on proposals in full council meetings and attend committee meetings.
Minority Leader Mike McQuillen renewed calls for Miller to resign, saying he was a "distraction" for the legislative body.
Miller was charged with child molesting after two 10-year-old girls told police he inappropriately touched and massaged them at his house.
The charges say Miller performed or submitted to fondling with the two children between Sept. 1 and Oct. 20, The charges are Level 4 felonies.
If Miller is convicted of a felony, he can be expelled from the council.
Please enable JavaScript to view this content.