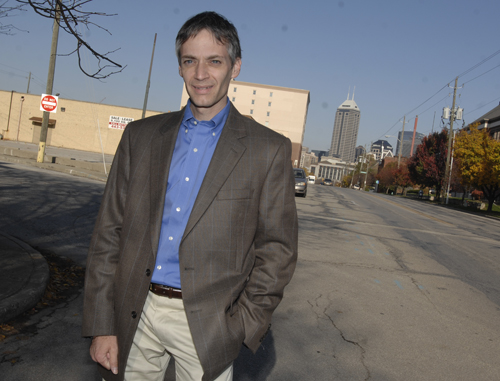 Jeff Miller, a Republican member of the Indianapolis City-County Council, has been charged with three felony counts of child molesting after two 10-year-old girls told police he inappropriately touched and massaged them at his house.
The Marion County Prosecutor filed the charges Friday afternoon against Miller, 50, in Marion Superior Court. The prosecutor's office said Miller's lawyer will make arrangements for him to surrender to the court, and added there were no plans to request a special prosecutor.
The charges say Miller performed or submitted to fondling with two children between Sept. 1 and Oct. 20, The charges are Level 4 felonies.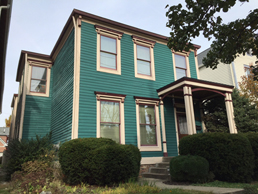 Miller lives at 558 Fletcher Ave., where on Oct. 21 police executed a search warrant seeking massage tools and implements. (IBJ Photo)
According to a 14-page affidavit, one of the alleged victims told police that Miller massaged between her legs and patted her on the rear end. She said "Can you stop it?" and several times tried to squirm away. The incident happened as she was watching a movie with a friend at Miller's house at 558 Fletcher Ave. in Fletcher Place. She also told police that Miller touched her bra while he was massaging her back, and her torso, just below her breasts.
Another child told police that Miller has "a bin of massage stuff" at his house, and described the contents, saying one looked like a little car, one was "spikey," and another looked like a fidget spinner.
"When Jeff massages her, he uses all of the various massage tools in the box of massage stuff she described earlier," the affidavit said.
Police executed a search warrant at the home Oct. 21.
Miller could not be reached for comment Friday.
In interview with police Oct. 21, Miller said he had known one of the girls since she was in kindergarten and the other for about a year, and considers their parents his friends.
When police asked Miller what kind of activities the kids do when they come over to his house, he said they sometimes play hide-and-seek and computer games. He said they also play a game called "Ride the Wild Jeff-beast" in which he gives them piggy-back rides and they use back massagers.
When police asked Miller if he massaged the children on the top of their clothes or underneath, he said: "I….thought on top. Now you're making me try to remember. I'd…I…think she would say something if I was not on the top of the clothes…maybe on back. I guess possible."
According to investigators, the activity came to light when the father of one of the girls was watching the news and saw a story about sexual misconduct allegations against Hollywood producer Harvey Weinstein. The father told his daughter if she ever needed to talk about such things, he would listen.
About an hour later, the girl told him Miller had been giving her massages, the affidavit said. When asked for details, she said Miller had touched her bra strap, massaged her foot and moved his hand up to her thigh, and "swiped" her groin area.
Miller is single. His wife of 11 years, Carolyn, died in 2011 from acute leukemia.
When police asked Miller if the children enjoyed the massages, Miller responded: "It's fun to know somebody enjoys something. … I'm a giver. I'm a, m-my thing is, uh, there's a reason I say I'm not a politician. I'm a public servant. I've always been…my, my memory verse, literally, is, 'He came not to be served, but to serve and give his life as a ransom to many.' It's just service is a thing for me. But…yeah. So, so yeah. The answer to your question of did you enjoy it? Absolutely."
When asked if there was any way he was doing it for sexual enjoyment, Miller said: "Lord, I hope not."
Please enable JavaScript to view this content.