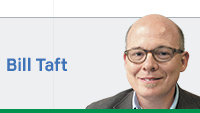 Indianapolis is grappling with one of its most violent years, leading citizens to ask hard questions about why such crime is growing and what we can do about it. While this crime spike has generated loud calls for a much larger police force, the city's lean budget cannot be our only solution.
Safe neighborhoods are seldom the result of a large police presence. Residents are the best deterrents of crime when they claim ownership and responsibility for their own streets and just rely on the police for extreme situations.
It is time for Indianapolis to stop giving lip service to community policing and start investing in proven methods of reducing crime through police partnerships with neighborhoods.
I remember when Mayor Goldsmith had all police cruisers emblazoned with "Community Policing" slogans, yet he never really transformed police practices to spend more time out of those cars talking to neighbors about how to change the conditions that cause high crime.
The slogan disappeared from cars sometime around the 2007 police merger under Mayor Peterson, and each successive mayor has struggled to lead and organize the force to really embrace community policing. Officers continue to focus on responding alone in their cars to emergency calls, then speeding off to the next crime, seldom engaging with the neighbors who could be engaged to make these neighborhoods better.
This culture of focusing on rapid response to calls at the cost of never getting to know neighbors has been a constant theme in the department.
Neighborhood groups have tried to play a role in preventing crime with rather mixed results. The crime watch program enlists residents to talk to one another about safety issues but seldom links the activity to specific crime challenges.
Community development groups focusing on revitalizing strategic sections of neighborhoods have tried to enlist police to focus on reducing crime there, but this seldom results in more intense policing in these target areas. Indianapolis just hasn't been able to align its neighborhood priorities to truly transform the safety of particular neighborhoods in a strategic way.
This is not true in other cities. Police chiefs like Dean Esserman of Hartford, Conn., have transformed their departments from reactive forces to teams of officers who work with resident leaders to improve the quality of life of urban neighborhoods. These officers build strong relationships with residents because they sit with them in non-crisis situations to resolve routine challenges through creative partnerships.
At first, some officers resisted becoming "social workers," but over time they have seen the power of building robust neighborhoods that will actually discourage crime through their strong local ties and laser focus on specific problem places or people.
Community policing tactics from places like Hartford are readily available through training programs for police and neighborhood partners that could immediately be deployed in Indy.
With the City-County Council and administration working together to fund and increase the number of police, there should be enough officers to focus on truly adopting community policing practices. The residents of crime-challenged neighborhoods have been gathering at various crime-prevention meetings, exhibiting a desire to work hard at reducing the violence that is taking a toll on their families and businesses.
I hope our public safety leadership will take this opportunity to embrace a substantive police-community partnership that will invest in empowering residents and officers. This kind of partnership can truly change neighborhoods instead of just responding to crimes after they occur.•
__________
Taft is executive director of Local Initiatives Support Corp., a not-for-profit that invests in neighborhood redevelopment projects. Send comments to [email protected].
Please enable JavaScript to view this content.