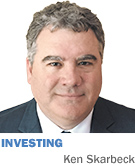 If an investment idea can be marketed and attract money from investors, Wall Street will find a way to package and sell it. This is the background behind a record number of newly launched exchange-traded funds that are seeking to attract your investment dollars. ETFs are the disruptive products that are shaking up the stodgy old mutual fund industry. The advantages to ETFs are, they can be traded during the day just like a stock and their fees to investors are generally considerably less than mutual funds.
ETFs can be designed to track any index or concept you can dream up. Today, a degree of silliness is showing up in many of the new ETF product offerings.
EventShares has created funds that allow investors to professedly invest in their own political party with the Republican Policies ETF (ticker symbol: GOP) and the Democratic Policies ETF (symbol: DEMS). And just in time to capitalize on the new tax bill, the firm has launched the U.S. Tax Reform ETF (symbol: TAXR).
You will note the catchy ticker symbols that accompany these whimsical ETFs. According to industry consultants, it is important to have a ticker that grabs investor attention. Clearly, the goal is to attract assets and fees—with the actual investment portfolio of secondary concern.
Since new ETFs are relatively easy to launch, investment firms are throwing out new ones to see what sticks. If ETFs don't attract assets, they are easily shut down and dissolved. Consider two ETFs that were formed to invest in the solar industry, TAN and KWT (i.e. kilowatt). TAN has attracted $400 million in assets, while KWT never gained traction with investors and was liquidated.
State Street Global Advisors sponsors the Gender Diversity Index ETF (symbol: SHE). SHE invests in companies that promote gender diversity on their boards and in senior leadership. The fund has attracted $368 million in assets and has gained 18 percent this year. This is one of many ETFs addressing so-called ESG investing: Environmental, Social and Governance.
Of course, there had to be an ETF with the symbol MAGA—you guessed it, the Make America Great Again ETF, which has attracted $30 million. The actual name is the Point Bridge GOP ETF, which purports to track companies friendly to the GOP's agenda. For example, it does not invest in technology stocks, since Silicon Valley and its CEOs are generally considered from the liberal side of the aisle.
You can invest in the future through artificial intelligence ETFs through the Global X Robot & Artificial Intelligence ETF (symbol: BOTZ), which has $1.4 billion in assets, trades nearly 1.5 million shares a day, and is up 60 percent this year.
To satiate "investors" who want to participate in the largest speculative trade in history, there is the Bitcoin Investment Trust (symbol: GBTC). While technically not an ETF, GBTC bears mention. The trust charges 2 percent in fees. You can bet Wall Street is chomping at the bit to offer bitcoin ETFs.
ETFs were conceived as a new way to engage in passive index investing. These newer ETFs have opened the door to theme investing or outright gambling.•
__________
Skarbeck is managing partner of Indianapolis-based Aldebaran Capital LLC, a money-management firm. Views expressed are his own. He can be reached at 317-818-7827 or ken@aldebarancapital.com.
Please enable JavaScript to view this content.