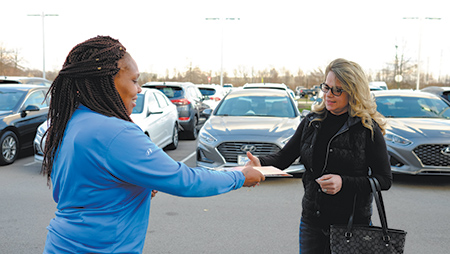 Following seven years of growth in new-vehicle sales, U.S. consumers appear to be tapping the brakes—but the auto industry says the slowdown is not causing them concern.
The expected sales declines aren't huge, but they would mark an end to the longest growth cycle since the Federal Reserve Bank of St. Louis began compiling vehicle sales figures in 1976.
"Most dealers are trying to prepare for a plateau on sales," said Marty Murphy, executive vice president of the Indianapolis-based Automobile Dealers Association of Indiana. "We're not expecting tremendous difference. It's just, you can't count on growth every year."
The National Automobile Dealers Association, a Virginia-based trade association that represents franchised new car dealers, is forecasting sales of 17.1 million vehicles for 2017, a decline of as much as 2.5 percent from 2016. The association expects sales to drop again in 2018, to 16.7 million.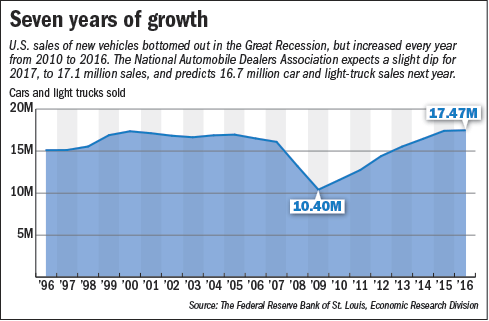 The Michigan-based Center for Automotive Research has also forecast a decline, although it projects the drop will be just about 1.4 percent from 2016.
Murphy described the declines as a return to a normal sales cycle following an extended period of recovering from pent-up demand.
New-car sales plummeted during the Great Recession, bottoming out at 10.4 million in 2009. After that, they grew each year through 2016, ending that year at 17.5 million vehicles sold, according to Federal Reserve Bank of St. Louis data.
Because car sales had dropped so low, it took a long time for sales to fully recover, Murphy said. "For years, we had pent-up demand that hadn't been met."
NADA's senior economist, Patrick Manzi, said the market is also facing a glut of off-lease vehicles, which depresses new-car sales.
Since 2014 or so, Manzi said, an increasing number of consumers have opted to lease their vehicles rather than purchase them. Because leases typically run for three years, many previously leased vehicles are now making their way back into the market as used cars.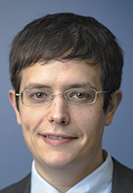 Manzi
"In the U.S., some 3.6 million leases, the highest number ever, will end this year, and this figure will grow to 4.3 million by 2019," Moody's Investors Service Inc. wrote in an auto-industry report issued Nov. 14. "Off-lease oversupply will therefore pressure used-car prices for the foreseeable future."
Those lower prices are luring some consumers to buy a used car rather than a new one, Manzi said.
Low used-car prices hurt new-car sales in another way, said Bernard Swiecki, senior automotive analyst at the Center for Automotive Research. When used cars are cheaper, consumers get less money for their trade-in vehicles, which translates to less money available for their next purchase. Faced with that situation, consumers who wanted to buy a new car might choose a used one instead.
Brian Napleton, director of Midwest operations for Chicago-based Ed Napleton Automotive Group, offered a different take on the impact of off-lease vehicles.
The Napleton Group recently purchased six auto franchises from Indianapolis-based Butler Auto Group: Butler's Hyundai, Fiat, Maserati and Alfa Romeo dealerships in Indianapolis, along with its Kia dealerships in Fishers and Carmel.
"I don't think it's necessarily taking away from new-car sales," Napleton said. Instead, he suggested that consumers who always intended to buy a used car might decide to upgrade to a newer-model used car.
One factor that affects sales decisions, Napleton said, is the consumer's expectation about the sales process itself. Shoppers educate themselves online before entering the dealership, and their online experience will affect their sales decisions.
"Online [dealer] reputation has become a major factor for people to decide what they're going to buy," Napleton said. "It used to be, a Honda customer was a Honda customer for life. Now, they will try a Hyundai or Toyota or Mitsubishi or Kia based on the relationship of the people."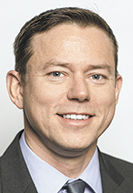 Swiecki
The Center for Automotive Research's Swiecki offered a few other factors that are likely putting a crimp in new-car sales: the rising costs of both housing and health care and the recent increase—albeit slight—in interest rates.
"All of those things make a consumer weigh an automotive purchase," he said.
At the same time, Swiecki said, looking simply at the number of vehicles sold doesn't tell the industry's entire story. "The big headline is the consumer preference shift to light trucks," he said.
Sedans have represented just 36 percent of 2017 vehicle sales, he said. The other 64 percent are in the light-truck category, which includes SUVs, crossover vehicles and pickup trucks. Moreover, Swiecki said, light-truck sales are up 4.7 percent for the year, while sedan sales are down 10.7 percent.
That's significant, he said, because light trucks are generally more profitable for automakers than sedans. "No automaker denies this," he said. "It's a given accepted truth in the automotive industry."
So even as total vehicle sales decline this year and next, Swiecki said, a shift to a higher-profit sales mix is a positive development.
He said he hasn't seen anything to suggest that small-truck sales will slow down anytime soon.
Going back decades to the era of the family station wagon, Swiecki said, "it's just a historical preference of the American consumer to buy the big vehicle of the day when the economy is good."
As dealerships look into 2018, most do not expect sales increases, Murphy said. So they might be adjusting their advertising budgets—either spending more or spending less—and reducing staff through attrition to trim expenses.
But as long as interest rates stay relatively low and the economy remains strong, Murphy said, auto sales should continue to do well.
"We continue to be optimistic. We've had our good run. We have no reason to think it won't continue."•
Please enable JavaScript to view this content.