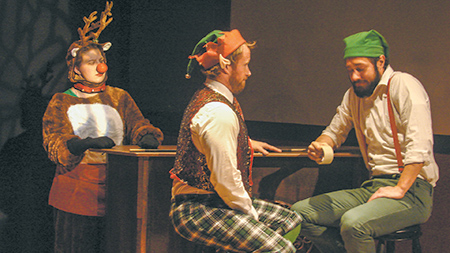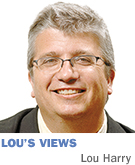 Filled with more nice than naughty—surprising considering it's recommended for ages 16 and up—"The North Wing" (through Dec. 16 at IndyFringe) offers a backstage look at the business of running Christmas.
We're at the North Pole, where work continues all year among elves and humans attempting to make the holidays run smoothly. Problem is, Mrs. Claus (Paige Scott)—emphasis on claws—has exercised her authority in picking a successor to the retired head elf. And, rather than pick hard-working Thomas (Logan Moore), she brings in outsider Janet (Meg McLane), who has a few ideas about efficiencies.
"Pajama Game"-like conflict arises between the clearly-attracted-to-each-other Thomas and Janet, and mistrust develops when it is revealed that someone is leaking secrets. As the Dec. 24 deadline approaches, loyalties are tested, songs are sung, and silliness abounds.
A "purely platonic" love song stresses that the actions of the two not-quite partners is "within the HR guidelines." A new toy needs to be developed and some bad ideas are presented. Absurd names (I'm looking at you, Mr. Hinklewinkle and Miss Jingletoots) get repeated—and get funnier with repetition. "We're saving Christmas with a work montage," one character announces. And they do, quite effectively. The montage, I mean.
And then there's Blumpkin (Kelsey VanVoorst), a reindeer complete with hooves and a truly disturbing bleat who somehow gets placed in a secretarial desk job. The ensuing madness turns out to be one of the funniest bits I've seen on stage in a long time. (If "The North Wing" turns into a holiday tradition, please, please, please include more from Blumpkin.)
While the title and logo suggest a spoof of "The West Wing," the connections are looser than die-hard fans of the Bartlett administration might like. Rather than echo the hit D.C-based series, I'm tempted to say that "The North Wing" could easily be tightened and re-created as a clay-animated TV special.
Then again, that wouldn't capture the joy of seeing a snowman narrator (Paige Scott, doubling) with problematic wooden hands. Or the pleasure of seeing elfin Ryan Ruckman and Davey Pelsue maximizing laughs through small gestures and seemingly minor inflections. Their performances made me question my memory of having seen them in ultra-serious Shakespearean roles. Comedy ain't easy, folks. And these guys demonstrate here that they know what they are doing.
Defiance Comedy, the group best known for episodic stage sitcoms such as "Spaceship to Nowhere" and "Jesus is My Roomie" as well as the Fringe hit "Haul & Oatz," turned the reins over in this case to writer/director Matt Kramer. He packs it a bit too heavily with plot, and problematic lighting occasionally works against his simple-but-effective staging. But there's plenty of fun here, and Kramer infuses "The North Wing" with a surprisingly gentle spirit.
One hope for IndyFringe—both the festival and the year-round presentation on its two stages—was that it would help incubate local talent. Kramer, a veteran of Three Dollar Bill Comedy, and his crew demonstrate that hope sometimes does get realized.
Here's to a 2018 filled with Defiance.•
__________
This column appears weekly. Send information on upcoming arts and entertainment events to lharry@ibj.com.
Please enable JavaScript to view this content.