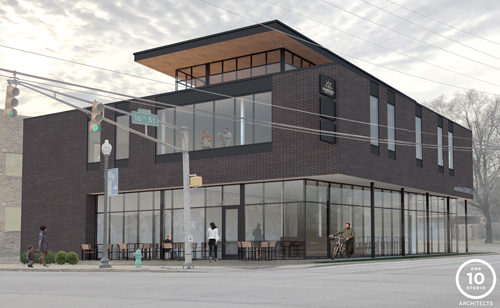 A startup real estate developer has purchased land on North College Avenue and plans to construct a three-story building at a key intersection along the route.
Mainstay Property Group LLC closed late last month on the parcel at the southwest quadrant of College and East 16th Street, and received approval from the Indianapolis Historic Preservation Commission on Dec. 6 to proceed with the project.
The company plans to spend $1.2 million, including what it paid for the site, to construct the 9,500-square-foot building.
"We like the level of investment that's accompanied the [East] 16th Street corridor," said Evan Manship, a principal of Mainstay. "This is our way of throwing our flag in the ground."
Evan and his identical twin brother, Clay, 27, started Mainstay in 2014, about a year after they both graduated from Xavier University. They bought their first rental home while still in school and accumulated a total of 50 in Indianapolis before liquidating most of them to focus more on commercial, long-term investments.
Several buildings originally sat on the site at 16th and College. The most notable was a two-story structure with a large one-story addition at the rear, which was demolished in 2011.
The building had been structurally damaged due to repeated vehicular strikes, and a portion of the building had to be removed by the city for fear that it would fall into the street.
Mainstay bought the property, which totals just one-third of an acre, in an off-the-market transaction from the daughters of the owner of the building that was torn down.
Evan and Clay live next door to each other in the Herron-Morton neighborhood north of East 16th Street and are well familiar with the property.
"I would run across 16th and College every single day," Evan said. "I see all these things popping up every which way, and 16th and College is a very underserved corridor."
New housing and restaurant options have been popping up on East 16th Street for several years. Restaurateurs Peter George and Thomas Main opened Tinker Street in 2015 at 402 E. 16th St., and Festiva in 2016 at 1217 E. 16th St.
To the east of the Mainstay property, TWG Development LLC is developing Monon Flats in the old Gleaner's Food Bank, planning 145 apartments. Across 16th Street, Third Street Ventures converted a 1913 building into a mix of office and retail space called Tinker House. Hotel Tango Whiskey—which operates at 702 Virginia Ave.—opened a production facility and event space there.
Plans for Mainstay's three-story building call for retail on the ground level, general office space on the second floor and Mainstay's new headquarters on the smaller, third level.
The company's current office is at 7140 E. 46th St. in Lawrence, near Shadeland Avenue, in a former daycare building that Mainstay bought.
Mainstay hopes to begin constructing its new building in the spring, with completion in November. One 10 Studio is the architect on the project.
A bank, brew pub and copy center already have shown interest in the building, Evan said.
Mainstay has three other urban-infill-type projects in the works in other neighborhoods, Evan said.
Please enable JavaScript to view this content.