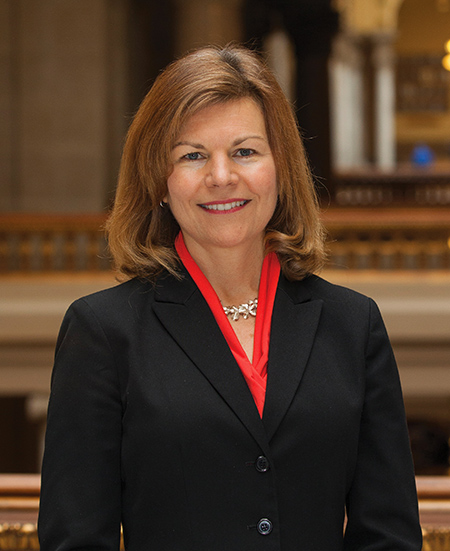 Editor's note: If you're looking for IBJ's story on the closure of downtown's Pie Five and the restaurant slated to go into the space, click here.)
Longtime Indiana Recycling Coalition leader Carey Hamilton plans to step down from the organization to focus on her job in the Indiana Legislature.
Hamilton announced she will leave the organization in March after nearly 10 years leading an organization she grew from a grassroots community group. Under Hamilton, the coalition grew from one part-time staff member to four members and tripled its annual budget.
Hamilton said her time at the organization was "really rewarding," but she said "the Legislature really can be a full-time job if you want it to be, and I do." Hamilton was elected to her north-side Indianapolis seat in 2016.
"What I've loved about this job is working with Indiana's manufacturers who would like to have more recycled material in their products, and making the economic case to communities to improve their recycling programs," Hamilton said. "I love serving in the Legislature. I was spread too thin."
Hamilton said she wants to focus her time in the Legislature on education and workforce readiness, and redistricting reform, which she said was "the No. 1 issue."
"I will focus a lot of energy on continuing to raise up that message so we can move that issue forward," Hamilton said.
Hamilton oversaw several successes during her time at the coalition. The group advocated for the creation of the state's first electronics recycling law in 2009. Then, in 2013 and 2014, it succeeded in lobbying to increase recycling funding at the state level and set a statewide recycling goal.
And Hamilton was front and center during a debate in 2014 and 2015 in Indianapolis over a company's plan to create a $45 million recycling center in the city where trash and recyclables would be intermingled.
That plan ended up being scrapped by Mayor Joe Hogsett's administration after being proposed by former Mayor Greg Ballard.
A recycling coalition press release states that Hamilton's efforts helped defeat "the ill-conceived plan."

"Carey's contributions to the IRC and our statewide mission have truly been transformative and we thank her for her great work on behalf of the organization," said Cassie Stockamp, board president for the group. "We also know her passion for service and coalition building skills will serve her constituents well in the Statehouse."


The board will conduct a nationwide search for Hamilton's successor in the first quarter of 2018. The job posting will be available in early January.
Please enable JavaScript to view this content.