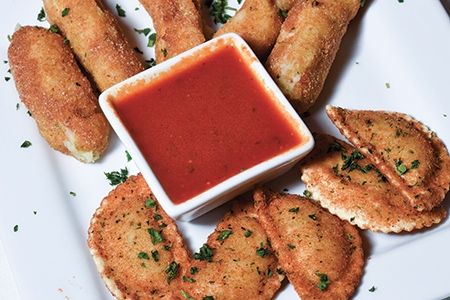 Want to know why Noblesville's popular Matteo's Ristorante Italiano has opened a same-named, same-menued outpost in Indianapolis?
You could probably just ask the couple lunching at the table next to me.
Over plates of pasta, the happy duo gushed to the manager that, a few times yearly, they drive up to Noblesville just to go to Matteo's, which opened on the square in 2003. Now that a sister spot with the same menu has opened its doors within Indianapolis, they promised to go to this one more often.
There can be a fine line between expanding and cannibalizing a business, of course. But a combination of a loyal fan base, an established local brand, and, in my experience, on-the-mark handling of staple Italian cuisine, could overcome the slightly challenging location.
Matteo's (1351 W. 86th St., 317-215-7900)opened in November in the tucked-away spot formerly occupied by Amalfi, across the parking lot from the abandoned Cinema Grill. The new spot retains the wood chairs, white tablecloths, and photo-bedecked walls, but offers a bit more intimacy thanks in part to lower ceilings and a smaller footprint.
Lunch is a Monday through Friday exclusive, so don't go looking for it on the weekends. The midday options are more limited, but the reasonable prices make it a good option well beyond special occasions.
Breaded in-house Calamari Fritti ($9) tempted us, but for an appetizer we went for variety courtesy of the Fritto Misto Italiano ($11), which paired crafted-in-the-kitchen cheese ravioli and panzerotti. Don't be confused about the latter. While others have used the term to describe a kind of calzone-like pizza turnover, here it refers to subtler mashed potato croquettes that deserve a more prominent spot in the pantheon of Italian appetizers. While the housemade fried ravioli was fine, these were the dish's highlight.
Matteo's goes all in with beef, veal and pork in the homemade sauce for its Mostaccioli Bolognese ($9.95), a dish that sometimes includes just beef or no meat at all. Matteo's meaty sauce—blended with tomato, basil and parmesan cheese—tops a mountain of pasta. When you find yourself taking a spoonful of just the sauce, you know the kitchen is doing something right.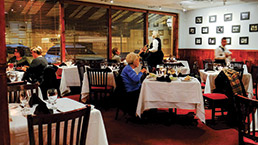 (IBJ photo/Eric Learned)
Meanwhile, a quartet of cheeses—gorgonzola, provolone, parmesan and, of course, mozzarella—make up the sauce for Pollo Quattro Formaggio ($10), with its sauteed chicken breast served on Italian rice pilaf.
There are sandwich options, too, with Paninis ($9 to $9.50) loaded with eggplant, prosciutto, mushroom and peppers, or the aforementioned calamari. And if for some reason you want to avoid pasta, the Soup and Salad Combo ($8.95) is a viable option. Di Campo, Caesar or Mediterranean are your salad choices while the soup is up to the daily whim of the kitchen.
Whichever route you go, try not to leave without hearing the pleasing crackle of your spoon breaking the caramelized surface of Creme Brulee ($7). Torched tableside, it featured a custard gently flavored with Marsala Wine and vanilla.
My conclusion: The gushing couple at the next table clearly has taste.•
Please enable JavaScript to view this content.