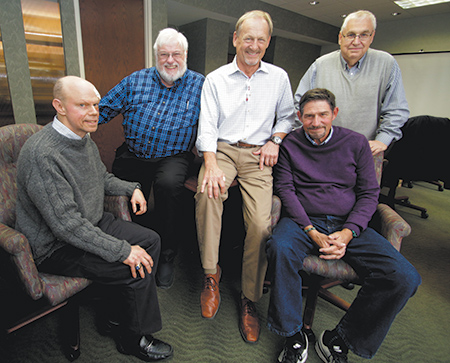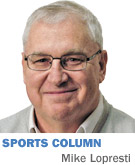 This meeting of the Been-Here-Forever Broadcasters Club is now in session. Let's take the roll call.
Don Fischer, in his 45th season calling Indiana University games.
Howard Kellman, who will start his 43rd season with the Indianapolis Indians.
Larry Clisby, in his 35th season with Purdue University basketball.
Bob Lamey, finishing his 31st season with the Indianapolis Colts.
Mark Boyle, in his 30th season with the Indiana Pacers.
All told, 183 years at their current posts. IBJ had them in for lunch the other day to talk their craft, save for Boyle, who chimed in later. If central Indiana is a sports Camelot for play-by-play men, they are the voices of the roundtable. Except in this case, it was rectangular.
As you might guess, conversation was not a problem.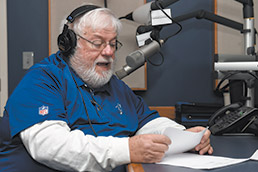 "To win it at home and win it like we did, my wife and I got out of that game and drove around the Circle and around the city, and just watched people celebrate." Bob Lamey, recalling the AFC Championship game victory that sent the Colts to the Super Bowl. (Photo courtesy of Indianapolis Colts)
Lopresti: How has this happened, so many broadcasting icons in one place?
Lamey: In my mind, it's the city, the people, the fans. I remember when I came here from North Carolina, I told my wife, "This could be a two-year thing." And two years turned into 43. I love it.
Boyle: The reason I've stayed is, this is a fantastic place to work. It doesn't really matter to me where I live as long as I like the job. It also speaks probably to the stability of the various organizations.
Fischer (who applied for the IU job in 1973, with 250 other applicants): I [applied] with no hope at all of getting the job, and two weeks later I had a phone call that they wanted me to come for an interview. I always have said this, and I believe it, that I was the last guy that probably sent a tape and resume, and they had listened to all these tapes and resumes and they all started to sound the same, so they just picked whatever was easiest.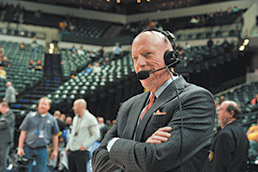 "What I find really fascinating about this profession is, there's not any one way to do it. I listen to how other guys do it—I could never do a game the way Bob does it. But that's who Bob is." Mark Boyle (IBJ photo/Eric Learned)
Does it mean something, to be known as the voice of … ?
Kellman: As a kid growing up, Mel Allen was known as the voice of the Yankees. And they'd say that. And when he left after he got fired, they never called anybody else that for a long, long time. So it's really special to be known that way.
Clisby: One of the greatest feelings about this and what we do is, that's our club and that's our team. And, yeah, maybe we get the "homer" tag, but so what? We get to feel the emotion of it. I love the emotion of it.
Lamey: Amen. Yeah, I'm a homer, but I really don't care what the people in Pittsburgh think. I care what people here think.
Boyle: It means something to me. I can't quantify it exactly because most of these people you never even meet. But you know they're out there and you hope they appreciate your work. I try to pay them back by being honest and candid in our broadcasts. When someone comes up to offer a constructive criticism to me, it's usually [that] I don't root for the Pacers enough.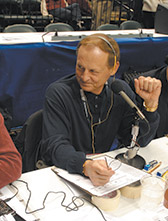 "Very first game I ever did for Indiana. I called it the University of Indiana. I'd like to have that one back." Don Fischer (Photo courtesy of Indiana University)
Lamey: Guys, you tell me, because I do not believe this. People come up to me and say, "I turn the TV down to listen to you." There's no damn way. It's too easy to turn the TV on.
Fischer: We did this one time in 1977 or '78. We put it out on the air, "If you watched the television and listened to the radio, send us a postcard and let us know you did that." We got 1,200 postcards the next two weeks.
Does it affect them if the team is doing poorly?
Clisby: Oh, hell, yes … the people I'm associated with, I feel for them. I know it's their job.
(He told the story of the morning after the Boilermakers had lost a tough game on the road.)
We're at a nice hotel, and I'm walking into a breakfast buffet and never saw so much food in my life. And I see Rick Ray over there, one of our assistants, and he looks like he's half dead. I said, "Rick, what's the deal? You're really upset about it?"
"Upset? It's our job, dude. We might get fired tomorrow. Hell, yeah, I'm upset."
Lamey: Cliz said it perfectly. I'm part of their family. They're part of my family. I love Chuck [Pagano], but I don't know if he's gonna be employed after Jan. 1. How do you say goodbye to a friend?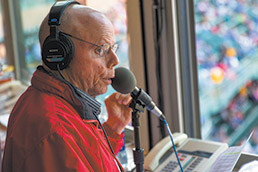 "There's no place I'd rather be than at the ballpark, broadcasting a game every day." Howard Kellman (Photo courtesy of Indianapolis Indians)
It changes what we do because it changes how we feel … . We hate getting on the plane [after a loss]. Coming out of Jacksonville the other day, it stinks. Nobody's talking, nobody's saying anything. I go back and remember a game in Nashville where we kicked the heck out of them, won the AFC and we're coming home. Some quarterback who has a statue in front of the building is on our PA singing. He can't sing. He could throw the football, but he can't sing. This has penetrated the whole plane, and it's like New Year's Eve.
Boyle: I want the Pacers to do well, but I'm able to compartmentalize. Once I get on the air, I don't look at it as working for the Pacers. I look at it as working for the listeners. I say this half in jest, but I do literally mean it. If we were 0-82, I'd still love this job.
Kellman: Buzzie Bavasi was a longtime general manager for the Dodgers and Padres and I saw a quote about 15 years ago from him. He said, "Great announcers work for winning teams." I laughed and said, "Well, I guess I'm not the announcer I was in the 1980s."br />
Boyle: This stuck with me. When I took this job, Donnie [Walsh] said, "I don't care what you say as long as you're fair and you don't get personal." I've always tried to use that.
To the extent that I've been harshly critical of anyone, it's because they whine too much to the officials. It just bothers me. I was on Paul George quite a bit for that last season.
Any special moments that will stay forever?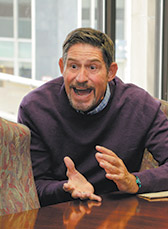 "… maybe we get the "homer" tag, but so what? We get to feel the emotion of it. I love the emotion of it." Larry Clisby (IBJ photo/Lesley Weidenbener)
Lamey: Easy. Marlin Jackson's interception in the AFC Championship Game [to seal the win over New England and send the Colts to the Super Bowl]. To win it at home and win it like we did, my wife and I got out of that game and drove around the Circle and around the city, and just watched people celebrate.
Kellman: Greatest moment in the history of our franchise, and we go back to 1902. Seventh game, 1986 championship series, Indianapolis and Denver tied three games apiece, bases loaded, two outs, bottom of the ninth. Billy Moore batting, 2-2 count facing Rob Dibble. And Moore lined a base hit to left field to drive in the winning run. You can't get any more dramatic than that. It doesn't take me long to pick out one moment.
Fischer: The '76 national championship, which was the first one I ever did. The year before, we were 31-1 and we probably should have won the national championship. Then the next year, you could just see the resolve in those guys. They were not going to be denied. In the last minute and a half, Knight took out one player after another. Everyone got accolades. It was just so cool, really emotional.
Fischer and Clisby were both on the microphone when Bob Knight threw the chair early in an Indiana-Purdue game in 1985. What did they think?
Fischer: Honestly, I was dumbfounded and literally didn't say anything for about two seconds. I made some kind of stupid sound on the radio because I didn't know what to say. Then I went, "I don't believe what I just saw."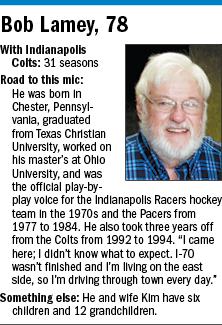 Clisby: Steve [Reid, who shot six free throws after all the technical fouls] always tells the story so good. He goes to the foul line, and he's an 85-percent free-throw shooter, and he misses the first two. [Coach Gene] Keady's over there hemorrhaging. Steve hits one, misses the fourth, makes the last two, comes to the sideline. He said, "[Keady's] just screaming at me for missing those free throws. So I get in the huddle and say, 'Look, you guys. We either win this game or I'm going to lose my scholarship. I cannot survive another day if we don't win.' Which we did."
Fischer: You know why Knight was nuts that year? The reason was because he was worn out. He'd just coached the Olympic team to the gold medal. He had nothing left. So we knew something was going to happen at some point; we just didn't know what it was going to be.
Boyle was there for the Pacers-Detroit Pistons brawl—Malice at the Palace—in 2004. Close enough to get hurt.
Boyle: "It was really surreal. I fractured five vertebrae. When Ronnie [Artest] went into the stands, I tried to stop him, and he just trampled me. We got knocked off the air because I still had the headset on and stuff got pulled out. We went back on the air and let Kevin Lee finish. Let's just say it wasn't one of my most pleasant nights at the office. I had to sleep in a chair for a week."
Any moments on the microphone they'd like to have back? Lamey mentioned the F bomb that famously slipped. But there was also that off-the-air comment that a station on the network picked up.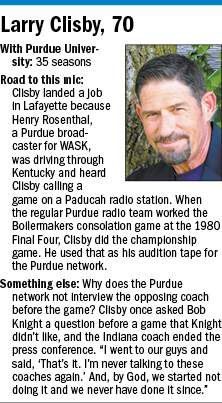 Lamey: I was talking to Will Wolford, my color guy, and we're playing Dallas and Peyton has thrown four picks. First of all, I knew he was hurt. Two, he was not having a good day. So I said to Will, "Man, they'd better get him out of there."
Somebody thought that was interesting, so they put it on the air the next day. Peyton's wife hears it. We parted friends, but there was a time we were not.
Clisby: I'm doing a TV show and I made some reference [that] Coach Knight wouldn't have done what Coach Keady had done. Why I said it—it had to be in the mid-'80s—I don't have any idea. You know how, when it comes out, now you know you're dead? I wasn't off the air two minutes, our producer was handling the phones. "Hey Cliz, Coach Keady is on the line."
 I said, "Coach, what's up?"
 He said, "I thought we were friends."
Fischer: Very first game I ever did for Indiana. I called it the University of Indiana. I'd like to have that one back. I said it three times the first half. I'm from Illinois, and it was always the University of Illinois. Of course, at halftime, we get a phone call. It's the program director at WIRE, and he goes, "It's Indiana University. It's never been University of Indiana and it never will be. Don't say it again." And I've never said it again.
Boyle: There is one thing I wish I'd never said, and it's ironic because it's the one thing people always say to me they liked. "Ding dong, the witch is dead" [when the Pacers knocked off the defending champion New York Knicks in the 1995 playoffs]. As soon as I said it, I thought, "I'm never going to hear the end of this." And I haven't heard the end of it. People like it, and I hate it.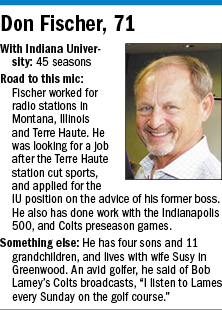 Missed games?
Kellman was out a week in 2016 when he had a heart attack in the booth before an Indians game.
Clisby had heart problems in 1992 and again two years ago that broke a streak of 666 consecutive games. "So it's happened to me twice, but, you know, I went 25 years between instances. And I'm not too worried [that] I stopped right on 666."
Lamey missed one game when he wasn't feeling well just before the Colts left on a Saturday for a Sunday road game. The team's medical staff sent him to Indiana University Hospital West, where all tests turned out fine, but "the trainers and doctors had told the people at IU West, 'Don't let him out of the hospital until the plane takes off.'"
Fischer missed a game when his father was nearly killed in a car accident, Boyle a few games to visit his dying mother and then to attend her funeral. Neither has ever been away due to illness.
Do they listen to one another's broadcasts and feel a bond?
Kellman: I think announcers enjoy listening to other announcers.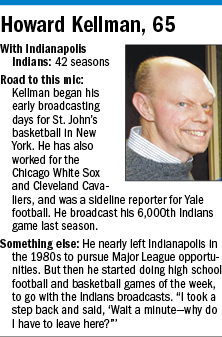 Lamey: You can commiserate with each other, talk about anything with each other. And sometimes you guys are an extension of the family, too, because you've been through the same things I have.
Boyle: What I find really fascinating about this profession is, there's not any one way to do it. I listen to how other guys do it—I could never do a game the way Bob does it. But that's who Bob is.
Clisby: I had this lawn mowing business. I may not be worth crap as an announcer, but I'm the only guy in Division I, I promise you, that mowed his head coach's [Matt Painter's] yard. So I liked to mow and listen to a radio game.
Finally, for them all, how much longer?
Fischer: Everybody says, "How do you keep going?" I don't feel any different than I did when I was 40 years old. Basically, as long as I can continue to work and enjoy what I'm doing and not sound like I'm blubbering on the air … I think when you quit our business, or when anybody retires, they better have something else that they want to do. Because if you quit doing stuff, that's when you die.
Lamey: I don't have plans. I'm doing it one year at a time. I've already told them that, unless they have other plans, I'll be back next year. I'm like Don—I don't want to embarrass the people who hired me, the people I work with or myself. And if I start doing that, I'll walk away. Right now, those idiots in that locker room are keeping me young.
Kellman: There's no place I'd rather be than at the ballpark, broadcasting a game every day. So the things that Don and Bob said, I share. I would like to keep going as long as things are going well.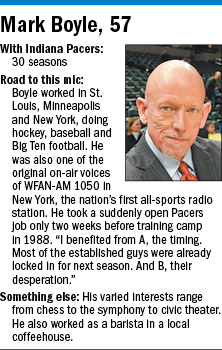 Clisby: They say when you're our age, tomorrow you may not be here. But I'm thinking 75. I have to honestly say to all of you, I've thought about it, and I'm not going to be happy when it ends.
Boyle: This is my last career goal: I want to know when to walk. I don't want to be that guy that's still there just because he's been there forever and they're afraid to fire him and he's embarrassing himself.
I find as I get older, I'm less and less interested in sports. I'm still passionate about broadcasting. I couldn't tell you three Colts players. I love baseball, but I don't follow the big leagues. What I wanted to do was develop a bunch of interests so that when it came my time, I would be able to: A, walk without being pushed, and B, enjoy the rest of the time.
Five men, their voices as much a part of the landscape of this state as corn. Enjoy them while you can. Not even play-by-play men in Indiana work forever.•
__________
Lopresti is a lifelong resident of Richmond and a graduate of Ball State University. He was a columnist for USA Today and Gannett newspapers for 31 years; he covered 34 Final Fours, 30 Super Bowls, 32 World Series and 16 Olympics. His column appears weekly. He can be reached at mjl5853@aol.com.
Please enable JavaScript to view this content.