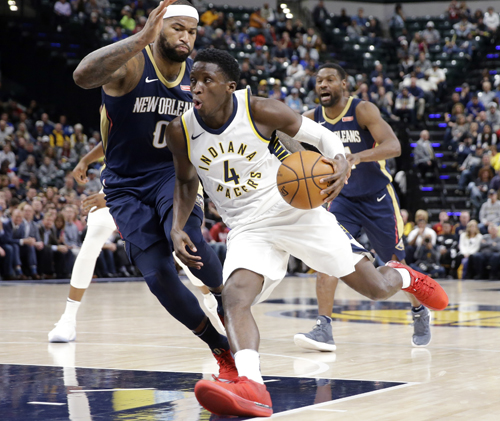 Longtime announcer and former Indiana Pacers star Clark Kellogg recently made an odd, albeit apropos, analogy about the team's newest star.
"Victor Oladipo is like a baby's bottom, smooth and sometimes explosive," Kellogg said during a television broadcast.
Oladipo has certainly exploded onto the central Indiana scene in his first season with the Pacers. He is fast becoming the face of the franchise.
His scoring average—24.5—is nearly 9 points higher than his first four years in the NBA. Oladipo leads the Pacers in minutes played, scoring and steals, and is near the team top in almost every other statistic.
He has twice been named NBA Eastern Conference Player of the Week, the only player to accomplish that this season.
It's difficult to overestimate Oladipo's early impact on the Pacers' basketball and business operations.
While the Pacers are still just more than a quarter of the way through an 82-game season, what Oladipo and the team have achieved to date is far beyond anyone's expectations coming into this season, one in which the team roster was completely overhauled. The Pacers, who were picked to be in the Eastern Conference cellar, are currently in position to make the playoffs.
While home attendance is still a bit behind last season's pace, all indications are that it's headed up.
In the last two weeks—a span that saw Oladipo score a career-high 47 points in an overtime win against Denver, hit a game-winning shot against Chicago, and score 33 as the Pacers snapped LeBron James' Cleveland Cavaliers' 13-game winning streak—the Pacers saw traffic to the team's ticket-buying web pages double, officials said.
And Oladipo merchandise at the Bankers Life Fieldhouse gift shop is moving faster than one of the fast breaks he's spearheaded.
"He is currently our most popular player in merchandise and we are having trouble keeping his items in stock," said Pacers spokesman Bill Benner. "We have a lot on re-order, and the better he plays, the more demand there is."
Pacers media partners, including Fox Sports Indiana and statewide radio partners, wasted little time featuring Oladipo prominently in game promotions. And with good reason.
TV ratings for Pacers games through Dec. 10 are up 18 percent over the same period a year ago, according to New York-based Nielsen Media Research. The team's local-market ratings—an average of 3.3 through 27 games on Fox—are sixth among 30 NBA teams. A 3.3 rating means that, on average, 35,500 central Indiana households tune in.
In addition, the number of people streaming the game on Fox Sports' online feed is up 106 percent over last season, Fox Sports officials said.
Singing a new song
Oladipo's team-first mentality and intensity on the court, soft-spoken and often light-hearted demeanor off of it, and his roots as an All-American college player who starred at Indiana University, make him uniquely appealing in this market.
"Victor Oladipo embodies everything this market wants to see from its star athletes and nothing it doesn't," said Milt Thompson, owner of local sports marketing firm Grand Slam Cos. "It's a match made in heaven."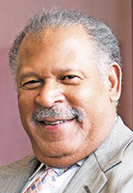 Thompson
He's even caught Indianapolis Mayor Joe Hogsett's eye.
"When I was told Quinn Buckner would be introducing the mayor of Indianapolis, I thought I'd have the afternoon off," Hogsett said at a Dec. 13 press conference to announce that Indianapolis will host the 2021 NBA All-Star Game. "Because, from what I've been hearing, there's a new mayor in town. And his name is Victor Oladipo."
Add in singing talent and "an infectious smile," and Oladipo's star power for local and national ad deals is rising rapidly, say his agents at New York-based CAA Sports.
"He's a dual threat—on and off the court," said Lisa Joseph-Metelus, executive agent at CAA Sports. "He has a legitimate and amazing voice. With his passion and knowledge of music, he could be a legitimate R&B star on his own."
Oladipo released his first record, "Songs for You," this offseason. Pacers fans stung by the distraction of Ron Artest's (now Metta World Peace) strange foray into music while playing for Indiana in 2005 need not worry.
"Basketball is his priority," Joseph-Metelus said of Oladipo. But after his playing days are over, she added, he could pursue a music career.

CAA Sports is working on multiple corporate deals for Oladipo and expects to announce some deals by the end of this season, she said. She declined to divulge specifics.
She also declined to talk about Oladipo's current deals. That might be because, until now, there haven't been many.
Last year, Nike made Oladipo the face of the Jordan-branded Extra.Fly sneaker. Other than that, his sponsor profile has been well below the rim.
That's about to change, his agents say.
"There's been a huge buzz about him coming back to Indiana," Joseph-Metelus said. "And the way he's played, he's making our job a lot easier. We've definitely seen an increased number of inquiries about him."
But Oladipo isn't interested in jumping on every opportunity that bounces his way, Joseph-Metelus said.
"He wants partners that make sense and that are about things he's passionate about," she said. "He's looking for long-term relationships and true partnerships."
Personality plus
With his unique persona and increasingly dynamic play, sports marketers agree Oladipo could be the biggest Pacers star since Reggie Miller, who played his entire career for the Blue and Gold, from 1987 to 2005.
A lot about Oladipo is intriguing.
His mom is a Nigerian immigrant and nurse. His father, a native of Sierra Leone, is a public health executive for Prince George's County, Maryland, with a doctorate in behavioral science from the University of Maryland. Oladipo has three sisters, including one who is his twin.
He switches from serious and pensive to happy-go-lucky and funny as quickly as he slashes to the rim.
Oladipo takes his craft seriously, but not so much himself.
Immediately after a recent game, and just before beginning a TV interview, the Maryland native who graduated from IU in three years dropped for 10 push-ups, later explaining in the post-game interview he did that because he missed a free throw.
After another recent game, in which he missed a handful of late-game free throws, he struck a more serious note. Oladipo told Fox Sports he wanted to shoot a hundred free throws "right now—tonight," but admitted team officials probably wouldn't let him. He promised to be back in the gym first thing the next morning to shoot the hundred foul shots.
He readily admits he loves the "Home Alone" movie franchise, saying he watches either "Home Alone" or "Home Alone 2" every day. He also loves "A Goofy Movie" and "An Extremely Goofy Movie," starring the floppy-eared Disney animated dog.
In practice, he's intense and hustles, but he's also quick with a joke and often belts out a song.
But when it's game time, Oladipo is all business, said Pacers Coach Nate McMillan. That quietness he often exhibits with the media fades quickly.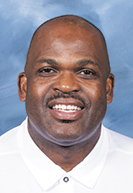 McMillan
"Victor is speaking up" with the other players, McMillan said after a recent practice. "He's just as vocal as anybody in that huddle—and in practice."
His play, McMillan said, speaks for itself.
"He continues to show growth. He's a guy you can close with. He's shown he's capable of being that guy," McMillan said. "He'll tell you it's not what he's doing, it's what the group is doing together that is giving him the opportunity to have success."
Doris Burke, an NBA announcer for ESPN, said during the Dec. 13 game against Oklahoma City that, for the first time in his career, Oladipo "is facing the opponent's best defender" and shining through.
Ghost of Paul George
Another factor is also making the 25-year-old a fan darling.
"Victor Oladipo wants to be here," Thompson said. "Everything about the way he plays, carries himself and interacts with fans and local media tells you that. That makes him especially appealing to not only fans but also to potential corporate partners."
Oladipo came to the Pacers in a trade this offseason that sent NBA All-Star Paul George to Oklahoma City. While Oladipo recently told local reporters he's sick of the comparisons between him and George, that won't stop them.
The difference between the two players, Thompson said, is stark.
"Did Paul George want to be here?" he asked.
George this offseason very publicly informed the Pacers that he would not re-sign his contract when it expired after this season. The pronouncement forced the Pacers to trade him at what many felt was a discounted rate. George had already voiced his desire to play near home in Los Angeles, so whatever team got him was likely to have him for only a year. That greatly reduced his trade value.
George was "a reluctant leader," said Thompson, a Pacers season-ticket holder.
"Victor is a team guy, but he's comfortable as a leader," he added. "Victor wants to play himself into greatness. Paul George already thought he was great and people should bow down to him."
Oladipo, on the other hand, seems eager to defer to others.
Pacers officials said Oladipo didn't want to be singled out as a star in team marketing materials, including massive banners that hang from the Bankers Life Fieldhouse lobby rafters. Oladipo and the other Pacers agreed all players should be featured equally.
"Almost everything he does shows humility," said Larry DeGaris, director of sports marketing at the University of Indianapolis, who recently helped conduct a central Indiana sports poll. "That plays very well with the central Indiana market and, as his star continues to rise, I think it will play nationally."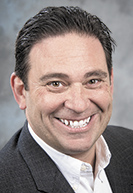 DeGaris
The Pacers will continue to market the team as a whole, said Todd Taylor, Pacers chief sales and marketing officer. But he added that the marketing department in January will launch a campaign—mostly digital and through social media—to try to help Oladipo get named to this year's NBA All-Star Game.
The selection process includes a combination of voting by fans, players, coaches and the media.
Ask Oladipo if he is the face of the franchise or if he embraces that role, and he is as elusive as a crossover dribble.
"I just take it one day at a time and do my best. I don't put myself in any role," Oladipo told IBJ. "I just go out there and play as hard as I can for as long as I can."
Home at last 
Oladipo said he owns a house in Indianapolis and is considering living here full time.
He clearly already feels very much at home. After several Pacers home victories this season, Oladipo pointed with both hands to the Bankers Life Fieldhouse hardwood and screamed to the fans, "This is my city."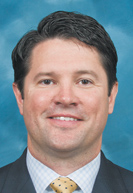 Taylor
It's not a boast.
"He's saying, 'I belong. I'm a part of this community,'" Pacers sales boss Taylor explained. "He understands how important basketball is to this state."
Oladipo agreed with that assessment.
It's not a gesture he has made in either of his first two NBA stops—Orlando and Oklahoma City.
No one should be surprised by his desire to connect with this city and state. Despite being born and raised in Maryland, Oladipo has always seemed like something of a Hoosier—eager to pick up the cause for the state.
When a reporter in 2013 asked him if he knew the namesake of IU's first-round NCAA tournament opponent, James Madison University, the quick-witted Oladipo turned the tables.
"Do you know what an Indiana Hoosier is?" he asked.
"Not really," the reporter said.
Oladipo smiled.
Oladipo readily admits he feels a closeness to the fans here that he didn't feel in Orlando, where he was drafted as the No. 2 overall pick in 2013 and played three seasons, or in Oklahoma City, where he played last season.
"Me and these fans have a history already. Being at IU for three years, I built a relationship there, and coming back here for the Pacers, even some Purdue and Butler, IUPUI and Ball State fans like me, too, now—which is pretty cool," Oladipo said following a recent Pacers practice.
CAA Sports' Joseph-Metelus isn't surprised by the immediate embrace between Oladipo and Pacers fans.
"Vic's gestures about the city and state are totally genuine. I promise you that," she said. "That is about him feeling at home. Indiana is where he grew up as a player, became a man and found his place. He's been waiting for this moment. And now it's here."•
 
Please enable JavaScript to view this content.