A nationally esteemed golf course in Zionsville could be redeveloped as a high-end residential project with office and retail uses.
Wolf Run Golf Club owner Stan Burton has filed plans with the Boone County town to rezone 235 acres south of State Road 32 between County Road 900 East and U.S. 421 to a planned unit development (see accompanying image).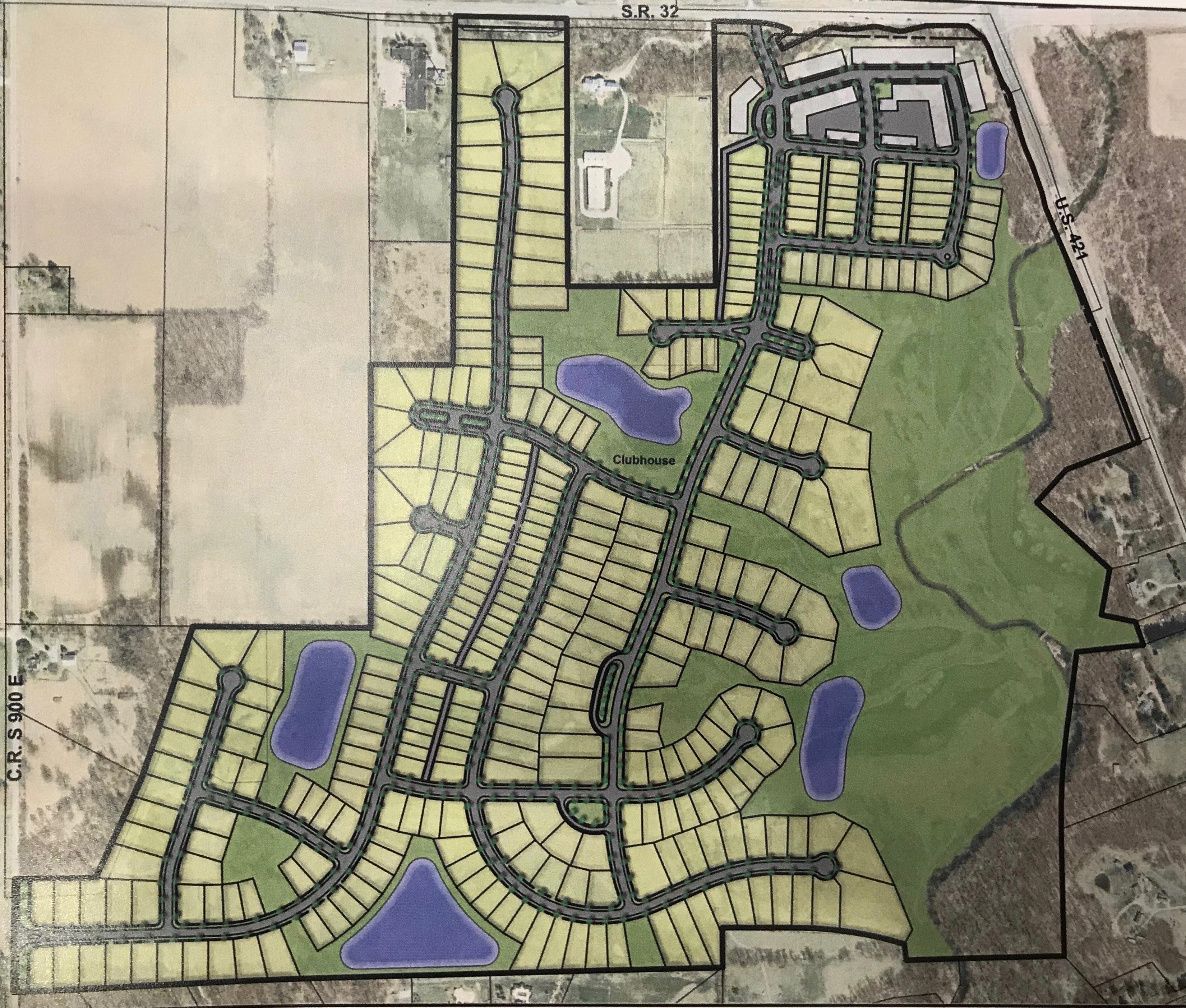 The project would allow 360 single-family homes, 200 multi-family housing units, 50,000 square feet of retail uses and 50,000 square feet of office space.
A project summary submitted to the town describes the development as a "high-end residential community consisting of a variety of home product offerings, including semi-custom and custom homes, with an appropriately scaled mixed-use component to serve both the Wolf Run neighborhood and other homeowners living in close proximity to U.S. Highway 421 and State Road 32."
Burton did not respond to messages from IBJ.
The rezoning documents say the community would incorporate as much of the existing natural landscape as possible.
"The same level of attention that was utilized during the development of the golf course has been applied to the proposed transition of the property to a mixed-use residential neighborhood," the documents stated.
The commercial section would be located on the southwest corner of U.S. 421 and S.R. 32, near the main entrance to the community off S.R. 32. Buildings could be up to three stories tall and would feature retail and restaurants on the ground level, with office or residential on the upper floors.
Multiple park areas and trails would be located throughout the development and would be open to the public.
A community clubhouse would include a private dining or party area, catering kitchen, fitness center, outdoor yoga patio, fire pit and swimming pool.
The homes would be at least 1,200 square feet to 1,600 square feet. Six different home categories are listed in the rezoning proposal, including estates and homes for empty nesters.
"The variety of lot types and frontages positioned around the natural topography of the site will result in a variety of housing types, scattered throughout the community, with aesthetically appealing view corridors," the documents stated. "There will be a variety of home builders intended to promote and diversify the architectural design throughout the community."
The documents do not provide estimated home prices.
The redevelopment would be significant but isn't surprising to at least one golf expert.
Mike David, director of the Indiana Section of the PGA, said Wolf Run Golf Club owners have been trying to find a buyer or potential developer for the land for several years.
"Nationwide, Wolf Run would be one of the highest-profile closures," David said. "The closure of this course—if it happens—would be significant news locally and beyond."
Wolf Run, which first opened in 1989, has on multiple occasions been rated as central Indiana's most difficult golf course, according to U.S. Golf Association slope ratings.
That might have been part of Wolf Run's problem.
"It is an absolutely beautiful course. But it is challenging. You have to be pretty good to enjoy that course. It might not be the place where you would take the family or your kids," David said. "That course is simply too hard for a segment of the golf population."
The golf course industry has been hit with a spate of closures locally and nationally over the last five years—fallout from massive overbuilding in the early 2000s, David said.
Wolf Run was ranked on multiple occasions in the top 20 of Golf Week magazine's list of top 100 courses nationwide.
While Wolf Run isn't for everyone, David noted that it has regularly hosted big events, including NCAA-sanctioned golf tournaments, USGA qualifiers and the Indiana Golf Association State Amateur Championship.
Wolf Run for a time had a men-only membership policy. David said that it began accepting women members six to eight years ago.
The Zionsville Plan Commission is expected to discuss the rezoning request at its meeting Monday night.
Please enable JavaScript to view this content.