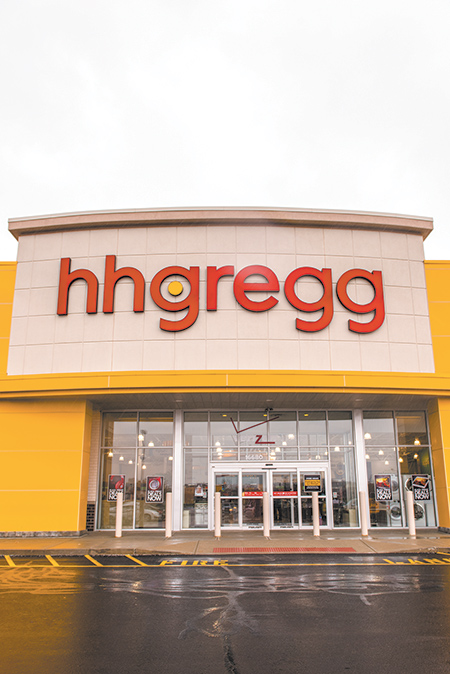 Retailers across the country announced the closings of more than 6,700 stores in 2017, beating the all-time high set in 2008 amid the height of the Great Recession.
Two locally based companies, HHGregg Inc. and Marsh Supermarkets Inc., contributed to the count in a big way, shuttering more than 280 locations between them.
On top of that, Carson's parent Bon-Ton Stores Inc. is struggling, raising concerns that Circle Centre mall could be left without an anchor. On Nov. 17, the company disclosed that it plans to close at least 40 stores in 2018. Bon-Ton said it was still determining which stores it would close.
Meanwhile, analysts following locally based The Finish Line Inc. continue to speculate whether the battered athletic apparel and shoe retailer will be taken over by United Kingdom-based Sports Direct International.
E-commerce giants are inflicting much of the damage, making it more difficult for brick-and-mortar outlets to compete with quicker deliveries.
But a few bright spots did emerge this year in the metropolitan area. The long-awaited arrivals of Ikea and Portillo's to Fishers satisfied the cravings for both, and Duluth Trading Co. opened its first Indiana clothing store, in Noblesville.
This year turned rocky in early April, when HHGregg informed its employees that it had failed to find a buyer for its 220 stores, prompting it to begin a liquidation process that put the 62-year-old appliance and electronics retailer out of business within eight weeks.
In May, Marsh announced that it was prepared to close its 63 remaining stores within two months unless it could find buyers or business partners.
Ultimately, two Ohio-based grocery chains, Kroger Co. and Fresh Encounter, agreed to buy 26 of Marsh's 44 remaining stores for a total of $24 million.
Fishers-based Marsh sold off the stores after closing 19 in May and filing to reorganize under the protection of bankruptcy.
The court filing said Kroger entity Topvalco Inc. planned to spend $16 million to acquire 11 Marsh stores, and Fresh Encounter entity Generative Growth II LLC planned to spend $8 million to buy 15 stores.
Kroger on Nov. 16 opened the first of the former Marsh stores it acquired, the location on West Michigan Street downtown in the Axis mixed-use development. The remaining Kroger stores should open by the end of March.
The sale of the remaining Marsh stores ended an 86-year run for the company. Ermal Marsh opened his first grocery in 1931, in Muncie. By 1953, Marsh operated 16 stores and went public. Six years later, Ermal Marsh died in a plane crash near Logansport; his brother Estel succeeded him as CEO.
In 1968, Don Marsh, Ermal's 30-year-old son, was appointed to lead the company and would retain the CEO's title until 2006, when Florida-based Sun Capital Partners closed on the Marsh purchase and dismissed him.
The Sun private equity firm bought Marsh for $88 million in cash and the assumption of $237 million in debt.
Once a homegrown powerhouse, Marsh at the time of the sale was beginning to lose market share to national chains ramping up their grocery business. The bleeding only got worse, with specialty grocers such as Whole Foods and The Fresh Market entering central Indiana, and Kroger investing millions to expand.
HHGregg also was a local staple. Founders H.H. and Fansy Gregg opened the first store at 4930 N. Keystone Ave. in 1955, and family members helped build the chain to more than 200 locations in the decades that followed.
The next generation—Gerald and Don Throgmartin, Fansy's sons from a prior marriage—joined the company in the 1960s and expanded HHGregg from a single-store business into a regional chain.
Then there was Gerald's son Jerry, who began working at HHGregg as a middle-schooler and joined it full time in 1978.
Jerry Throgmartin's son Gregg Throgmartin, representing a fourth generation, joined the business in 2001. He started at the bottom, as a salesman at an HHGregg in Nashville, Tennessee, and rose to executive vice president. Gregg Throgmartin left the company in 2014.
It was under Jerry—a University of Indianapolis graduate with an executive MBA from Indiana University—that the company enjoyed its golden age, ratcheting up expansion while remaining true to what had driven its success.
Throgmartin was serving as executive chairman of the company when he died unexpectedly in January 2012 at just 57. His family said he was felled by complications from meningitis while visiting his ranch in Colorado.
The company's fortunes went steadily downhill from there. It eventually was done in by a long list of problems—including overexpansion and a collapse in sales of consumer electronics, once its biggest business.•
Please enable JavaScript to view this content.