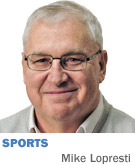 You might have noticed the Colts are looking for a new head coach. This'll be No. 10 in Indianapolis, by the way, not counting interims.
Before we find out the name of the lucky guy who gets tapped on the shoulder by Jim Irsay and Chris Ballard, the candidates will no doubt have to come up with a lot of correct answers in their interviews. To help the process along, here are some of the pertinent questions, plus how candidates should respond. And how they shouldn't.
1. The Colts haven't made the playoffs the past three seasons, something 24 of the other 31 NFL teams have done. Even Buffalo. What's your feeling about that?
Acceptable answer: "I understand that is the expectation of this glorious franchise, and I intend to get us back there very soon."
Unacceptable answer (with apologies to Jim Mora): "Playoffs? You kidding me? Playoffs? I just hope we can win a game."
2. What's your reaction when you see the 4-12 record this season, and the fact that the four wins came against teams who finished a combined 10-38?
Acceptable answer: "Twelve losses in a season are intolerable. The fans and ownership deserve better."
Unacceptable answer: "Well, at least we're not the Browns. And we're drafting third!"
3. Chuck Pagano was 0-9 against the powers of the AFC—New England and Pittsburgh—and the Colts gave up an average of nearly 41 points in those games. How will you address that?
Acceptable answer: "We'll find tough players who are eager to measure themselves against the best and want to put the Colts back in that elite group one day soon."
Unacceptable answer: "We'll petition the league office to move to the NFC."
4. While we're on the subject of drop-offs, the Colts and Patriots were once considered serious rivals. But in the past three years, Indianapolis has lost 28 regular-season games, while New England has lost nine. This season, Tom Brady threw 32 touchdown passes; the entire Indianapolis offense produced 24. Your thoughts?
Acceptable answer: "One of our first priorities will be returning to the days when the Patriots kept one eye on what the Colts were doing all season."
Unacceptable answer: "Never mind the Patriots. I just want to stay on the field with Jacksonville for a change."
5. What will be your first words to Andrew Luck?
Acceptable answer: "We're going to get you 100 percent healthy, and surround you with the help you need."
Unacceptable answer: "Can I see pictures of your European trip?"
6. The Colts gave up 56 sacks this season, the most in the NFL. What would you do about that?
Acceptable answer: "We need to continue to strengthen the offensive line via the draft and free agency, because it doesn't matter who the quarterback is if he's going to be a tackling dummy every Sunday."
Unacceptable answer: "Maybe you've seen my first book: 'How To Win In The NFL Running The Single-Wing Offense.'"
7.  In the past six years, the Colts have lost 16 games by at least 20 points, and seven by at least 30. What do you think when you see those numbers?
Acceptable answer: "That can't happen. We should have enough talent here to at least be in every game, even if we don't win them all."
Unacceptable answer: "Look at it this way. The fans often get to leave early and beat the traffic on Capitol Avenue."
8. What's your favorite memory of a past Colts head coach?
Acceptable answer: "Tony Dungy holding up the Super Bowl trophy."
Unacceptable answer: "That Chuck Pagano fake punt against New England."
9. What were your impressions of Lucas Oil Stadium this season? The owner is mighty proud of it, you know.
Acceptable answer: "The fans were awfully understanding, given all the losses and blown leads. They're ready for another champion."
Unacceptable answer: "What's with this Ring of Honor thing?"
10. What's your view of the AFC South?
Acceptable answer: "It's no joke anymore. Jacksonville has built a defense, Tennessee is in the playoffs, Houston will be a handful when Deshaun Watson gets back. We have to step up."
Unacceptable answer: "It's a lot warmer than the AFC North."
11. The 1998 draft was a defining moment for this franchise. Do you remember your reaction when the Colts selected Peyton Manning with the No. 1 pick?
Acceptable answer: "I was thinking he had a chance to be a Hall of Famer one day, and bring a championship to the people of Indianapolis, just like Andrew Luck."
Unacceptable answer: "I was thinking they should have taken Ryan Leaf."
12. What promise do you want to make to the Colts about continuing their tradition?
Acceptable answer: "We will produce a championship-caliber team, just like the fans here grew accustomed to for so many years."
Unacceptable answer: "When I get canned or want to leave, I'll win my last home game—just like the last six coaches did."
13. Why do you want to come to the Indianapolis Colts?
Acceptable answer: "I want to help rekindle the good times for one of the NFL's best franchises."
Unacceptable answer: "The Bears, Lions and Giants never called."•
__________
Lopresti is a lifelong resident of Richmond and a graduate of Ball State University. He was a columnist for USA Today and Gannett newspapers for 31 years; he covered 34 Final Fours, 30 Super Bowls, 32 World Series and 16 Olympics. His column appears weekly. He can be reached at mjl5853@aol.com.
Please enable JavaScript to view this content.