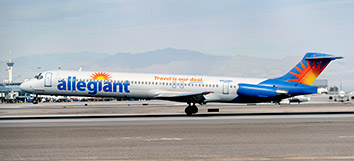 Indianapolis International Airport will add two more nonstop destinations to its lineup in April, when Allegiant Air begins twice-a-week flights to both Sarasota, Florida, and Charleston, South Carolina.
The Sarasota service, which will operate year-round, begins April 11. The Charleston service, which begins April 6, will run seasonally from Easter to October or November, said Lukas Johnson, a senior vice president at Allegiant.
Las Vegas-based Allegiant, a low-cost carrier that focuses on travel to leisure markets, began serving Indianapolis in February 2015. It now offers nonstop service from Indianapolis to 12 cities in the South and Southwest. The Charleston and Sarasota service will bring that total to 14.
Allegiant already offers flights from Indianapolis to both St. Petersburg and Punta Gorda, both of which are on Florida's west coast. Those flights have proven to be successful, Johnson said, so Allegiant decided to add service to Sarasota, which lies midway between those two cities.
"Indianapolis absolutely loves the west coast of Florida," Johnson said.
Likewise, Johnson said, Allegiant has been pleased with its Indianapolis service to both Myrtle Beach, South Carolina, and Savannah, Georgia. Charleston is between those two coastal cities.
Based on the success of the Sarasota and Charleston flights, Johnson said, Allegiant could add additional service from Indianapolis by this fall.
"We have some others (destination cities) in our playbook that we're taking a look at," said Johnson, who did not name specific destinations.
Allegiant is also preparing to increase its Indianapolis presence in another way.
 
Last August, the airline announced plans to open a $40 million aircraft base at Indianapolis International Airport, including two Airbus planes and an employee base of more than 60 pilots, flight attendants, mechanics and ground personnel. That base opens on Feb. 7, and Allegiant plans to add a third Indianapolis-based aircraft this summer, Johnson said.
The Indianapolis base will be the 13th base in Allegiant's network, Johnson said.
With the addition of the Sarasota and Charleston flights, Indianapolis will offer nonstop service to 51 cities—the highest number of nonstop destinations in the airport's history, said Mario Rodriguez, executive director of the Indianapolis Airport Authority. 
"These (new) flights wouldn't be possible without having a plane base here," Rodriguez said.
Please enable JavaScript to view this content.