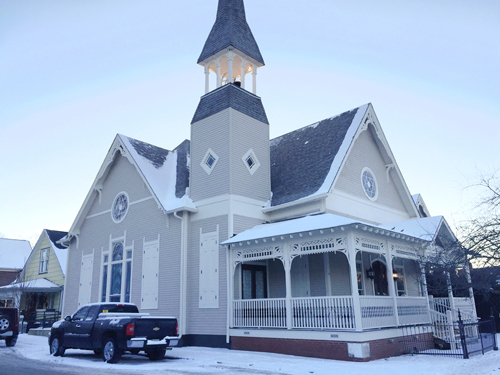 Prominent artist Nancy Noel hopes the $2 million that she has now pumped into her historic studio building in downtown Zionsville will help attract a buyer for the 164-year-old structure.
Noel bought the former church, constructed in 1854, in 2006 to house her studio/event center/restaurant and dubbed it The Sanctuary. Her paintings, heavy on angelic imagery, still hang on the walls. But the building has been relegated to hosting occasional open houses and is rarely open to the public.
She has listed it since 2015—originally for $1.85 million, but has dropped the asking price to $1.59 million even as she finishes a second round of renovations.
"Maybe the outside was deterring people who were thinking it was in bad shape," Noel surmised about why the building hasn't attracted a buyer.
It once was under contract, until the prospective buyer couldn't produce the earnest money, Noel said. But the exterior renovations that she recently has undertaken seem to be paying off.
The building at 75 N. Main St. has attracted three potential suitors: a restaurateur, a home decorator and another who wants to open a wine bar and event center in the 10,800-square-foot space.
"There is nothing left to do," said Tammy Kelly, a Re/Max commercial broker who is listing the building. "It's ready for an owner."
All told, Noel said she has invested $2 million in the building, including its purchase and restoration. The most recent upgrades, to the exterior, include new paint, a new roof and the restoration of the bell tower.
The building originally housed a Methodist congregation and later became a Baptist church. Fire destroyed the main room of the church, which was rebuilt in 1894.
Noel said she paid less than $700,000 for the building when she purchased it in 2006 from a couple who sold furniture there and moved to Florida. The interior walls were painted multiple colors, Noel recalled.
"It was really not an attractive space," she said.
Many of the interior renovations were finished in 2008, enabling Noel to open her studio, event center and café. But she put the building on the market in 2015, when she considering relocating her art gallery to New York City. She eventually opted for Aspen, Colorado.
Noel stayed in the ski-resort town for a year and returned in 2016 to her 40-acre Zionsville farm, where serious buyers can view many of her paintings. They can run into the six figures, but most of her artwork sells in the $40,000 to $60,000 range.
She also sells online and has "so much going on in her life" that she needs to sell the Zionsville studio.
"It was hard for me to make the decision," she said. "This is like a master painting to me."
A three-way liquor license, an antique hand-crafted bar and commercial kitchen are included.
The space boasts 24-foot ceilings in the main gallery, three fireplaces (two of which are gas), original stained-glass window, custom chandeliers and loft seating. The oak wood floors have been refurbished and refinished, with some replaced, and a new Victorian porch has been added to the exterior.
Noel hopes a new owner will use the space in a way that benefits the public.
"To me, this place needs to serve the community," she said.
Please enable JavaScript to view this content.