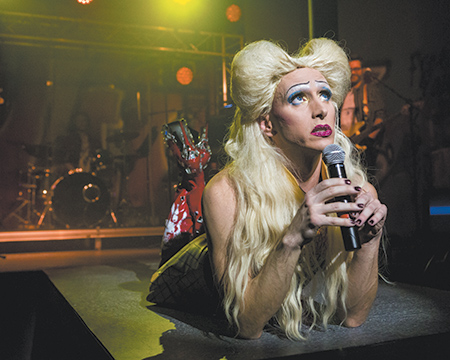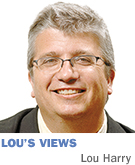 A parade of well-known actors—including Neil Patrick Harris, Taye Diggs and Michael C. Hall—took on the lead role in the recent Broadway revival of "Hedwig and the Angry Inch."
But I'm actually glad I missed seeing the show with a big name. Even though I've seen the film and a live recording of the original production, bypassing Harris and company allowed for my first theatrical run-in with Hedwig to be in the exemplary up-close-and-personal production at Epilogue Playhouse (originally scheduled through Jan. 14 but, as of press time, adding shows for the following weekend).
Hedwig is, to be sure, one of the most unique characters in musical theater history. An East German whose botched sex change operation leaves him in a gender netherworld, Hedwig is left by the man who brought him to America. He then discovers songwriting and another love, only to have his tunes stolen by the young man Hedwig thought was destined to be his other half.
Now his former lover is a full-fledged rock star, and he's playing an arena gig across the street from where Hedwig and band are playing at, well, Epilogue Playhouse. (The door is occasionally opened for us to have a listen.) And so, in real time, we get a concert, revelatory monologues, audience interaction, and a play that makes me wonder if it's ever too soon to start a Best of the Year list.
Hedwig, as expertly played here by in-the-moment-every-moment Tim Hunt, is no icon—no whitewashed symbol created to teach an acceptance lesson. Hedwig is a complex, often confused, sometimes harsh, funny, manipulative, vulnerable human being—who happens to have a stellar set of songs to sing.
Many theatrical musicals pretend to be palatable to rock 'n' roll fans, but Hedwig's songs could be mixed, without apology, into a playlist of David Bowie, Iggy Pop and Debbie Harry tunes. They are elusive, poetic, hard-driving and sometimes gorgeous. And they rock. (Want to listen? I recommend the original cast recording with John Cameron Mitchell over the recent revival.)
Sound and lighting are first-rate, as one has come to expect from a Zach & Zack production (Zach Rosing gets credit as producer/sound designer and Zack Neiditch for direction).
The cast is a small one. In addition to Hunt, there's Kate Homan as Yitzhak, Hedwig's put-upon husband and backup singer, and a top-notch band (Jacob Stensberg, Matt Day, Steven Byroad and Andrew McAfee). They are collectively costumed by Beck Jones and coiffed by Daniel Klinger's can-you-top-this hair and makeup design that's as spot-on as the rest of the production.•
__________
This column appears weekly. Send information on upcoming arts and entertainment events to lharry@ibj.com.
Please enable JavaScript to view this content.