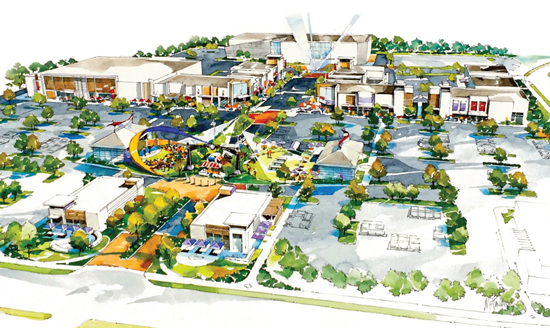 Sun King Brewing Co. has downsized its previous plan to build a major brewery and tasting room in Fishers and instead plans to open a smaller facility at The Yard at Fishers District.
The Indianapolis-based brewery company announced Tuesday that it would open a 13,000-square-foot specialty production craft brewery and tap room at the culinary-centric project slated for a 17-acre property east of Ikea on East 116th Street by late spring 2019.
The Yard, which is being developed by Terre Haute-based Thompson Thrift Retail Group, is expected to include as many as 25 to 30 food and entertainment businesses.
Sun King said the new facility will include the culinary incubator that the city of Fishers has planned for The Yard. The 3,000-square-foot culinary accelerator, which is intended to help entrepreneurial chefs test ideas or concepts, will include three food stalls open to the public and Sun King guests.
Thompson Thrift will own the building and has reached a 10-year-lease with Sun King. No city incentives were involved in the deal.
The city will lease the space for the incubator for $1 per year for 20 years, according to an earlier agreement with Thompson Thrift.
Additional details about the accelerator have not been released.
The Sun King Specialty Production Brewery will be capable of producing 5,000 barrels of specialty and experimental beers per year. Sun King's core, seasonal and specialty beers will be at the tap room, along with spirits from Sun King's distillery in Carmel, which is scheduled to open this year. Carry-out beer will also be available.
Plans for the brewery call for a 3,000-square-foot rooftop patio as well as areas designated for all ages.
Sun King has had its eye on Fishers for a brewing facility for several years. It first announced plans for a 40,000-square-foot destination brewery and tasting room in 2014, but those plans were put on hold as state regulations regarding production were altered.
The $10 million facility had been expected to be located on a 12.8-acre site just off Interstate 69, on the southeast corner of Kincaid Drive and Sunlight Drive. Sun King reached agreements to receive up to $3 million in state and local incentives to develop the project.
In the meantime, the company opened a tap room and small-batch brewery at 7848 E. 96th St. in Fishers. The 6,000-square-foot tap room debuted in 2015.
Sun King spokeswoman Beth Belange said original plans for the destination brewery became infeasible due to high construction costs. And, with growing activity at Interstate 69 and 116th Street in Fishers because of Ikea and Topgolf, the owners decided to "go all in at the Yard at Fishers District."
"Sun King's new specialty brewery will be an exciting addition to the Fishers District," Fishers Mayor Scott Fadness said in written comments. "We're incredibly proud of the collaboration between the city of Fishers and iconic Indiana businesses like Sun King Brewery that are fueling the growth of projects like the Fishers District that will attract residents and visitors, alike."
Two existing concepts from St. Elmo Steak House operator Craig Huse—Burger Study and 1933 Lounge—will also open at The Yard in 2019. 
Earlier this month, Miami-based eatery operator Hip Cuisine Inc. announced it would open Rawkin Juice at the development.
Please enable JavaScript to view this content.