The culinary-centric development proposed in Fishers is an unusual concept for the northern suburb, but it's an idea experts say just needed the right recipe.

And the 17-acre property on 116th Street east of Interstate 69 appears to have offered just that to Thompson Thrift Retail Group: The nearby office market is growing, the population in Fishers continues to climb, incomes are above average, and I-69 has more traffic than it can handle.

Plus, Swedish-retailer Ikea and entertainment attraction Topgolf are expected to open nearby next year, creating a regional draw. And Target, which already attracts shoppers to the interchange, is just across the highway.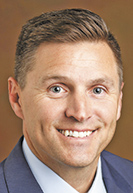 Boyd
Another important factor is restaurant demand, and Fishers officials say the community has that, too—new eateries are one of the most frequent requests they hear from residents.

"I think the formula has to be right. There has to be a void and a demand in the community … and we feel that exists here," said Ashlee Boyd, managing partner with Thompson Thrift. "It just really creates a great recipe—no pun intended."

The proposed development known as The Yard, which was introduced last month, will include 10-12 lots for restaurants and entertainment venues. Plus, it will have a one-acre green space in the center for the city's 3,000-square-foot culinary incubator—something similar to a project in Dallas. The Fishers development is expected to cost $40 million to $60 million.

"I think it's well past due for a project like this," Boyd said.

Securing the site

In September 2015, residents in the 29-home Springdale Estates neighborhood knew development was headed their way.

Commercial real estate developer JLL stuffed mailboxes with fliers asking if anyone was interested in selling, and the city started discussing the 116th Street widening project, which would require eight properties.

The remaining 21 property owners who would not be affected by the road construction met to coordinate a plan.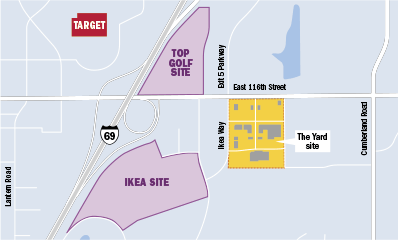 "We decided at that meeting that we probably should talk to a couple of developers and have them give us a proposal to see what they were offering," said resident Karen Fowler, who has lived in the neighborhood 25 years. "We just decided this was what we wanted to do, and if we could do it unified, it would be better for everybody."

It wasn't the first time a developer had come knocking—Fowler said residents received letters about nine years ago—but this time residents knew it was different: Ikea was moving in.

"Somebody was going to buy this addition, and why not maybe have some control over who you're selling it to and the terms and conditions?" Fowler said. "That's why we just decided that we'd stick together and do it as a unit."

The neighborhood came to a consensus and opted to sell to Thompson Thrift for 1-1/2 times each property's assessed value. The deal cost the developer a total of $5.46 million.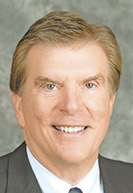 Delaney
Steve Delaney, first vice president with CBRE, said securing a property of that size with homes on it is an impressive feat.

"I just can't imagine going door to door and getting everybody to agree. My hats off to [Thompson Thrift] that they were able to pull it off," Delaney said. "I think the site has a lot of merit and will be very successful."

Boyd said the firm had looked at the site on and off throughout the years, and most recently started sniffing around once the Ikea rumors started.

"We knew Ikea was looking at that site," Boyd said. "But once it was confirmed, it really gave us an opportunity to do something with more of a regional appeal."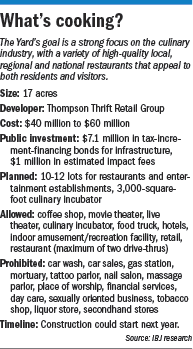 Dining destination

The exact layout of the development is still being tweaked, but Boyd expects to land a variety of local, regional and national eateries that will make The Yard a dining destination for residents and visitors.

"We're looking for unique concepts that are new to the market," he said. "Absolutely there will have to be some regional and national-type concepts that will provide stability. But that certainly will not dominate the feel of the project."

The Yard could include a dinner-theater concept and other entertainment attractions. Site plans also outline a spot for a four-story hotel.

Current zoning would allow a theater, coffee shop, movie theater, culinary accelerator, food truck, hotel, indoor amusement/recreation facility, restaurant and retail. A maximum of two drive-thru restaurants would be allowed, but several Fishers City Council members are hesitant to allow any.

Council member Eric Moeller, who works near the project location at Forum Credit Union, said his initial reaction is to prohibit all drive-thrus, but he wants to have some leeway for developers or restaurateurs with out-of-the-box concepts.

Moeller also wants The Yard to have an emphasis on local eateries, rather than chains but doesn't think the restaurants all need to have high price points.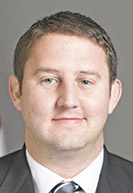 Moeller
"I think residents are not only looking for quality, but also a differentiated experience," he said.

The restaurants are expected to offer unique dining experiences, similar to what customers experience on Mass Ave or in Fountain Square in Indianapolis.

"It's not that there aren't restaurants in Fishers, and it's not that there's not good restaurants in Fishers, but we just thought there was a demand for more variety," Boyd said.

If all goes according to plan, the development could provide a different experience from the restaurant and retail centers that usually neighbor an Ikea outlet. The Ikeas in West Chester, Ohio, and suburban Chicago are surrounded by a plethora of chain restaurants like Panera Bread, Buffalo Wild Wings and Wendy's.

The Ikea in St. Louis bucks the trend, with only a handful of fast-food chains nearby, but the store opened in an established neighborhood designated as an innovation district.

Boyd said specific restaurants or chef-driven concepts for The Yard could be finalized in the coming weeks.

"Most of the restaurants we've met with, we've come away from those meetings where they agree—they see there's an opportunity," Boyd said. "This concept is being received very well in the restaurant community."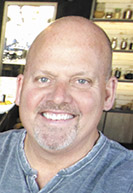 Cunningham
Mike Cunningham, CEO of Cunningham Restaurant Group, said the demand for high-quality restaurants certainly exists in Fishers, but right now, the rent prices keep entrepreneurs out.

"We would love to be there," Cunningham said. "The market wants cool, independent stuff, and we've built our model on that, but it's just tough."

Place to experiment

That's where the culinary incubator space comes into play. Under an agreement with Thompson Thrift, the city will lease either one 3,000-square-foot building or two 1,500-square-foot buildings for $1 per year for 20 years. The space will then be open to entrepreneurs in the culinary industry to test new ideas or concepts, similar to what Launch Fishers has been for the tech community.

Cunningham said the idea is interesting, but it's tough to say how successful it will be until more logistical details are worked out—like, what happens if a chef has the space for three months but fails within three weeks? Or, who will staff the facility?

"There's quite a few obstacles they need to overcome," he said.

Delaney said similar culinary incubators have opened in other major cities, including Dallas, home to the Trinity Groves Restaurant Concept Incubator.

That program allows chefs and others to present new concepts to a team of experienced restaurateurs, who then help make the idea they like become a reality. But that project had a big name behind it from the start. Phil Romano, a restaurateur known for opening Romano's Macaroni Grill and Fuddruckers, launched it.

Fishers Mayor Scott Fadness has said the details of how the local incubator will be structured are still being determined, but he's taking input from industry leaders to make sure the space will fit the needs of culinary entrepreneurs.

"It's kind of cutting-edge and it's a very good idea, depending on how they structure it," Delaney said.•