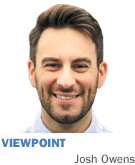 The news that Amazon is considering Indianapolis for the company's massive new headquarters brought a welcome wave of civic excitement to the city.
As CEO of SupplyKick, one of Indiana's fastest-growing and largest Amazon service providers, I have seen firsthand the power of building on the success of Amazon. We understand that Amazon values devotion to its customers, excelling beyond expectations in service and a highly rated product at a price consumers love. I have no doubt our city can deliver those exact same values to Amazon, the customer, in this search.
Regardless of how this pitch and Amazon's decision work out, let's use this excitement and momentum to envision an Indianapolis positioned well for the next 50,000 jobs created, whether those jobs come in a smiling box or not. We know what positions Indianapolis well—our people, our value, and our hospitality. But we also know what holds us back and deserves immediate investment.
If we are to fill 50,000 jobs with mostly Hoosiers, it will require a wild commitment to all levels of education. It will require a unified vision of what it means to be educated in Indianapolis, regardless of the district or neighborhood in which you live. Let us commit, no matter what Amazon decides, to an Amazonian investment in classroom-readiness, including investments in remediation, counseling, special services, teaching and locally creative pathways to careers and colleges.
If we are to fill 50,000 jobs within this city, it will require a wider commitment to modern infrastructure. Beyond the perpetual pothole fix, our downtown streets are four-lane thoroughfares and unsafe for pedestrians, and our county-wide streets without sidewalks and lights are also unsafe. Our neighborhoods can be better connected with faster transit options. We must also prioritize nearby access for all Indianapolis residents to grocery stores and to rapid-internet connectivity. We should make an Amazonian investment in equitable transit and modern connectivity that will revolutionize opportunity across the city.
Finally, if we are to fill 50,000 jobs within this city, it requires a sustained and patient commitment to lifting others up. The problems of crime, opioid addiction and poverty are interconnected and not at all unique to our city. They do, however, require action beyond our current levels. Growth brings its own chaos. Indianapolis businesses must step up to this moment by providing a comfortable standard of living for all their team members. Beyond what the state is committing, our city must deliver a much more unified solution with Amazonian scale to increasing opioid treatment options and the probability of exiting poverty.
If Amazon chooses Indianapolis, we will need to do all this and more. But if Amazon does not choose Indy, it's more important to take on this scale of action. Let's use this moment to not just be the crossroads of America and a Top 20 option for a premier company, but instead be the connective tissue of a global economy—an Indianapolis as the entrepreneurial and civic heartbeat of America. Let's execute a unified vision that brings Indianapolis 50,000 new jobs whether they are built here, brought here, or both in the next 10 years.•
__________
Owens is CEO of SupplyKick and chairman of the Indiana Charter School Board.
 
Please enable JavaScript to view this content.