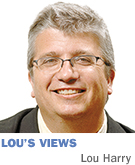 The IUPUI campus—where the Galleries at Herron School of Art and Design are located—earns its reputation for parking challenges. But the work shown at Herron—often a mix of out-of-town talent, local professional work and student creations—tends to be among the most accomplished and thought-provoking in town and is usually well worth the parking hassle.

On a recent solo field trip there, I took in three shows, all running through Feb. 24.

First stop, Michael Zansky's "Deep in the Shallows" in the Berkshire, Reese and Paul Galleries.

By day a television set designer with more than 200 episodes of "Law & Order: Special Victims Unit" and another 56 of "The Sopranos" to his credit, Zansky's work doesn't seem, at first, to connect to those naturalistic, gritty programs.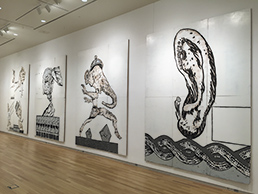 Michael Zansky's oversized images have a mythic quality,
(IBJ photo/Eric Learned)
Towering far larger than even the most indulgent of home theater screens, where his work is usually seen, Zansky's carved plywood and acrylic work—as large as 16 by 20 feet—deals not with contemporary crime but with more elusive, mythic violence. That manifests in the direct confrontation of the two battling figures in his Challenge series—with the pair so intertwined it's often hard to tell whose limbs are whose. And it comes through in a single figure whose head is corkscrewing in a way that doesn't make clear if the figure is menacing or being tortured.
Zansky's Saturn series of paintings, which he is debuting here, are individually interesting but, together, hint at an incomplete series, one perhaps from an ancient civilization. That very incompleteness—the need for the viewer to fill in the blanks—is a big part of why this outsized work holds attention.

Meanwhile, in the Basile Gallery, Ronald L. Hall filters into his work what he calls "fictional narratives based upon real life individuals." Those include the specific—Henry "Box" Brown, the Virginia slave famous for mailing himself to freedom—and the more general. The very anonymity of the woman's body lying on the ground and the (mourning?) man on one knee pictured in "The Coming" speak to these too-common images in real life. More ambiguity strengthens "A Tale of Two Boys," with a pair of contemplative youths in the foreground and a nearly empty attic in the back. Fill in your own narrative, seems to be Hall's invitation. A single video work in the exhibit hints at Hall's continued search for new channels worth exploring.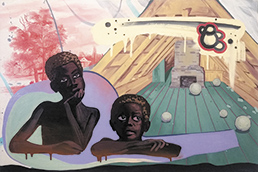 Ronald L. Hall's paintings speak to memory and, perhaps, loss
. (IBJ photo/Eric Learned)
Finally, Joell Baxter's site-responsive installation "Floating Points," brightening the Marsh Gallery, seems oh-so-simple, with screen-painted paper panels suspended from the ceiling in seemingly woven sheets. The angles, the fragility of the material, the light through the large window, and the gentle wave of the paper caused by its proximity to patrons add up to a peaceful exploration of color and pattern that seems to open up the gallery space.

Visiting Herron galleries also comes with the bonus of seeing often-unidentified student art around the building—in this case, a charming set of shadow-puppet stages placed near the entrance. The work of a previous class, the stages were being used to show the range of possibilities to a new class of student artists. Eavesdropping a bit on the class served as a reminder of the legacy being passed down through Herron.

And so I'm making a belated New Year's resolution, and I hope you consider it as well: Going forward, I'll be paying a visit to the Herron Galleries at least once a semester. And probably more. (You've got to be careful with these resolutions.)•

__________

This column appears weekly. Send information on upcoming arts and entertainment events to lharry@ibj.com.