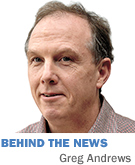 Carmel IT executive Dilip Vadlamudi admitted participating in a bribery and kickback scheme but avoided a prison sentence last fall after an army of friends and business associates cast him as a model citizen who got caught up with a bad seed.
Now, though, the other defendant, Nimesh Patel of New Jersey, is playing the model-citizen card himself. Court records show he pleaded guilty to one felony count in October and now hopes to avoid prison, as well, when he's sentenced Feb. 9.
Prosecutors charged in 2016 that Vad-lamudi, founder of locally based Pyramid Technology Solutions, funneled hundreds of thousands of dollars to Patel—the former senior IT director for the headquarters of the Leukemia & Lymphoma Society in Westchester, New Jersey—in return for millions of dollars of IT work from the 1,500-employee not-for-profit.
Vadlamudi contended his payments to Patel began under entirely innocent terms, as part of side projects the two began working on in 2010, a year after Pyramid started doing work for the leukemia society.
The turning point was in 2014, when "it became clear to Mr. Vadlamudi that these side projects were not going to succeed," according to a filing by his New York attorney, Sharon McCarthy. "It was at this point that Mr. Vadlamudi came to understand that, should he stop paying Patel, PTS' business could suffer."
The shenanigans were described in a different way in a January filing by Patel's New York attorney, Ryan Blanch. It included the requisite language about Patel's accepting responsibility for his actions but also suggested it was Vadlamudi who was the true villain.
In seeking no prison time, Blanch quoted from a letter to the court from Jeff Como, the leukemia society's former chief information officer, that concludes by surmising that "Nimesh's naive nature combined with the alluring overtures from his extremely unscrupulous co-conspirator led him down a path that he could not find a way out. I believe Dilip is a person of low moral character and certainly someone who could be comfortable initiating and consecrating these actions."
It's unclear how that storyline will play with Judge Katherine Forrest, who at Vadlamudi's sentencing hearing was sympathetic to his telling of events. She opted to place the 47-year-old, who had pleaded guilty to one felony count, on three years' probation.
"I am not sure in this particular situation that incarceration is necessary at all," Forrest said in court. "The reason for that is that, while I take these kinds of crimes very seriously, frankly it appears to me that Mr. Patel, who was on the take, has a different kind of culpability than Mr. Vadlamudi."
At that sentencing, Forrest sounded impressed by Vadlamudi's rise from being the only child of parents of modest means in India to a successful American businessman with legions of admirers.
An early fascination with electronics led Vadlamudi to Indiana State University, where he obtained a master's degree in electronics and computer technology in 1994.
Letters friends and family filed with the court in hopes of securing leniency for Vadlamudi cast him as an extraordinarily hard worker. In 1998, while working full time as a software programmer and computer engineer, he started Pyramid—a business he ran on nights and weekends for 13 years before finally joining the business full time in 2011. Its Indianapolis workforce eventually swelled beyond 60.
At the sentencing, Forrest said: "I was never thinking of more than five months' incarceration. But as I thought about it and reread the letters, it is hard for me to understand why this gentleman should go to jail."
Blanch and Patel supporters who wrote letters cast Patel in a similar light.
Patel, now 46, also grew up in India, one of two children of a devout Hindu family that lived on a compound that was home to a flour mill where his father worked. He and his wife, Dahra, came to the United States in 1997.
Many of Patel's supporters highlighted his service to Hindu Samaj Temple in Mahway. Citing those letters, Blanch wrote: "Because of his character and service to his community, Mr. Patel has turned many of his fellow worshippers into extended family members, who love and respect him."
Yet not everything in the letters will necessary play well with the judge, who'll want to hear Patel own up to wrongdoing.
In his letter, Devendra Shukla, the Hindu temple's head priest, wrote: "He confessed to me that knowingly or unknowingly he made a mistake but had no criminal intent. It was an error in judgment on his part, which got him into this situation."•
Please enable JavaScript to view this content.